Rita Moreno at NCLR 2013
2013 Latinas Brunch an NCLR Tradition!
7/21/2013, 3:14 p.m.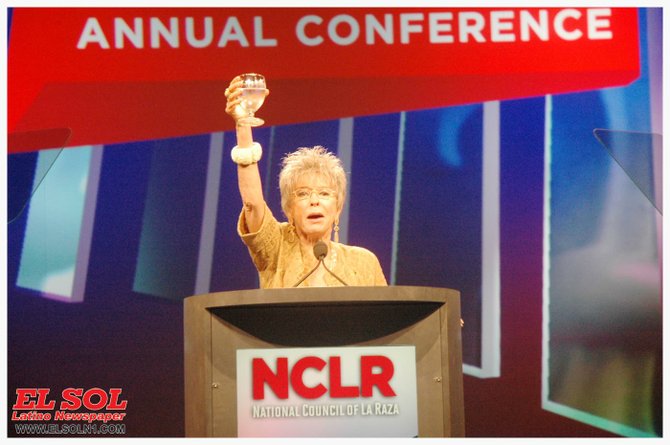 Rita Moreno (born December 11, 1931) is a Puerto Rican singer, dancer and actress. She is the only Hispanic and one of the few performers to have won an Emmy, a Grammy, an Oscar, and a Tony, and was the second Puerto Rican to win an Academy Award.
Among Moreno's awards and recognitions are the following:
Academy Award for Best Supporting Actress - "West Side Story" (1961)
Golden Globe Award for Best Supporting Actress - "West Side Story" (1961)
"The Joseph Jefferson Award" Best Chicago Theatre Actress (1968)
Grammy Award The Electric Company Album (1972)
Tony Award for Best Featured Actress in a Play - "The Ritz" (1975)
Emmy Award for Individual Performance in a Variety or Music Program (1977)
Emmy Award for Outstanding Guest Actress - Drama Series (1978)
"The Golden Apple" Cue Magazine Award
Library of Congress Living Legends Award, April 2000
In 2000, the Hispanic Organization of Latin actresses (HOLA) renamed their Award for Excellence in her honor (now named HOLA Rita Moreno Award for Excellence)
"The Sarah Siddons Awards" for her portrayal of Olive Madison in the female version of the Odd Couple
"Special Recognition Award" from the International Latin Music Hall of Fame (2001)
"Presidential Medal of Freedom" from President George W. Bush in June 2004
Rita Moreno has a star on the Hollywood Walk of Fame at 7083 Hollywood Blvd.
On December 5, 2007, California Governor Arnold Schwarzenegger and First Lady Maria Shriver inducted Moreno into the California Hall of Fame, located at The California Museum for History, Women and the Arts.[17]
In 2009, Rita Moreno was awarded the National Medal of Arts by President Barack Obama.[18]
In 2010, the Hispanic Organization of Latin actresses (HOLA) honored her with an HOLA Lifetime Achievement Award