National Citizenship Day Event to Celebrate New Americans
9/16/2013, 10:39 a.m.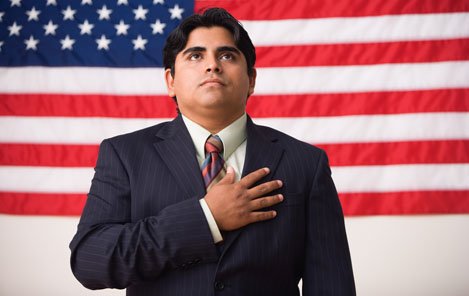 National Citizenship Day Event to Celebrate New Americans
New and Aspiring Americans, Business Leaders and Immigration Advocates Highlighting Citizenship and Prosperity
Tomorrow, September 17, 2013, at 10:00 a.m. EDT (Citizenship sessions will begin at 1 p.m. and 3 p.m.) aspiring Americans, immigration advocates and business leaders will gather at the Hyatt Regency Washington Room: Congressional A; to celebrate National Citizenship Day with a press conference on the clear connection between citizenship and prosperity for immigrants, their communities and the nation's economy.
The event, one of several dozen planned nationwide for National Citizenship Day by the New Americans Campaign, will highlight how local and national service providers are leading the effort to integrate eligible immigrants through programs such as The Bethlehem Project and CitizenshipWorks.
Business leaders, service providers and immigration reform advocates will share the ways in which they seek to provide solutions to the issue of immigrant integration. Aspiring Americans receiving assistance with their citizenship applications will share their stories on why they are pursuing citizenship and how the New Americans Campaign integration programs are helping make that dream a reality.
Participants:
Marizza Contreras, Employee Participant, The Betsy Hotel, Miami Beach (Bethlehem Project participant) . Wendy Kallergis, President and CEO of the Greater Miami and the Beaches Hotel Association (Bethlehem Project participant) Ali Noorani, Executive Director, National Immigration Forum Mark O'Brien, Executive Director, Pro Bono Net (CitizenshipWorks) Melissa Rodgers, New Americans Campaign Project Director, Immigrant Legal Resource Center. Justin Scoggins, Co-Author, Citizen Gain: The Economic Benefits of Naturalization for Immigrants and the Economy, University of Southern California. Max Sevillia, Director of Policy and Legislative Affairs, NALEO Steve Smith, General Manager, Hyatt Regency Washington (Bethlehem Project participant) . Aspiring Americans will be available for interview after the press conference.