Philadelphia Water Department Urges Residents to "Keep 'Em Closed"
7/16/2014, 1:18 p.m.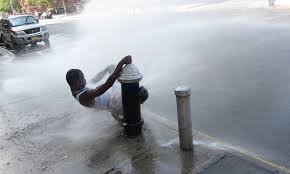 Philadelphia Water Department Urges Residents to "Keep 'Em Closed"
Illegally opening fire hydrants puts residents at risk, wastes water and money
PHILADELPHIA (July 16, 2014) – The force from an open fire hydrant can easily knock a small child into the path of an oncoming car, flood homes, and wastes thousands—if not hundreds of thousands—of taxpayer dollars, not to mention that it's illegal.
Illegally opening a fire hydrant risks the safety of children and adults, and wastes 60,000 gallons of water each hour—equal to what one household uses in an entire year. It can also hamper firefighting efforts and disrupt water service for schools, hospitals, homes and businesses.
With roughly 70 public pools—more than any other U.S. city—and several spray parks, as well as dozens of cooling centers, the City provides plenty of safe, legal alternatives to tapping into a hydrant.
If you see an open hydrant spraying water into the street, or notice an unauthorized attempt to open a hydrant, you can report the incident anonymously by calling 215-685-6300. It could save someone's home, neighborhood, or life.
"Hydrants are for fighting fires, not for recreation, and the risks involved with opening a hydrant illegally far outweigh any perceived benefit," said Philadelphia Water Department Commissioner Howard Neukrug.
Illegally opened fire hydrants can:• Lead to dangerous road conditions by impairing visibility and pushing children into traffic.
• Hamper firefighting efforts resulting in injury, property damage or death.
• Flood nearby basements and cause damage to homes, which the homeowner is responsible for.
The Philadelphia Water Department serves the Greater Philadelphia region by providing integrated water, wastewater, and stormwater services. The utility's primary mission is to plan for, operate, and maintain both the infrastructure and the organization necessary to purvey high quality drinking water, to provide an adequate and reliable water supply for all household, commercial, and community needs, and to sustain and enhance the region's watersheds and quality of life by managing wastewater and stormwater effectively. For more information, visit www.phila.gov/water.