MIMIC: Opción para la Juventud
Estableciendo conexiones de apoyo comunitario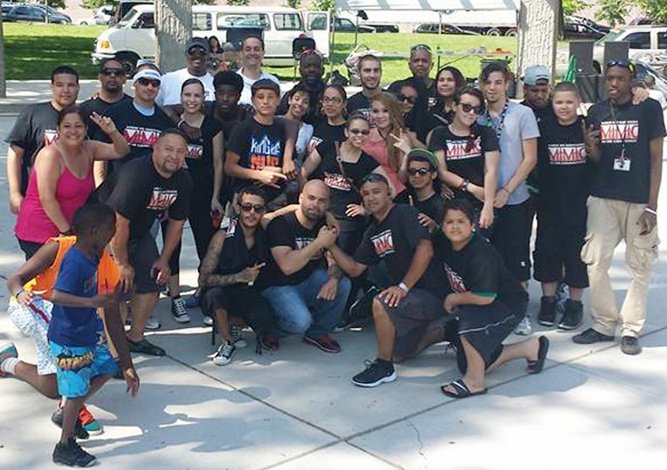 Philadelphia.- Miembros de MIMIC (Men in Motion in the Community), incluido su director Edwin Desamour, realizaron un evento comunitario en el Parque Fairhill en el norte de Filadelfia el sábado, 7 de junio, donde vendedores, agencias de servicios sociales dieron información a los asistentes. Pero sobre todo los miembros y voluntarios disfrutaron del espectáculo musical, la camaradería y el ambiente familiar. Aspecto muy importante en la misión de MIMIC que es establecer conexiones de apoyo comunitario y lazos sociales con los jóvenes de alto riesgo, con adultos jóvenes y hombres que han sido previamente encarcelados mendiante mentoría, participación comunitaria y enriquecimiento educativo.
Los miembros de MIMIC pertenecen a las comunidades a las que sirven, compartiendo experiencias similares, principalmente en el vecindario de Kensington/Fairhill. Edwin Desamour es egresado del Instituto de Liderazgo Latino y dedica su tiempo, energía y su propia experiencia en el sistema penal de la ciudad para que los jóvenes en alto riesgo cuenten con otras opciones en su vida. La concejal María Quiñones-Sánchez y miembros de SALEA (The Spanish American Law Enforcemente Association), Oscar Rosario Fuentes de Canal 6 ABC estuvieron presentes, entre otros, para apoyar a MIMIC.
En Brevce
MIMIC was founded September 2007 by a group whose concerns about the violence plaguing inner city youth and the alarming number of young people entering the juvenile/prison system prompted them to address these issues.
Because of their distinct experiences, MIMIC mentors are able to easily connect with the young people, quickly eliminating the barriers faced by traditional service providers in engaging extremely at-risk youth. Mentors reach youth through school presentations, referrals, and/or by providing business cards to youth right on the street corners where young people meet, converge, or engage in risky activity. Once the mentoring relationship begins, mentors help youth identify the various social obstacles and determine how each will be surmounted and engage them in activities and programming.
MIMIC's ultimate goal is to reduce the number of young males entering gangs and/or the criminal justice system by way of effective male mentors focused on helping young men: ngage/reengage in education or training and to strengthen the social networks needed to live productive lives free of violence. A second and equally important goal is to re-engage adult men to be active leaders in their communities. MIMIC, P.O. Box 60964, Philadelphia, PA 19133.
Also of interest