COCHON555.COM
Redacción Agencias | 4/15/2015, 9:28 a.m.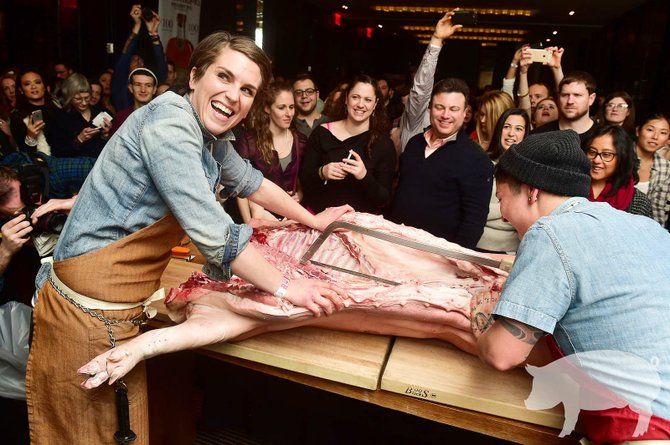 The country's most talked about culinary competition returns with an epic 3-day feast showcasing some of the best bites and chefs of the good food movement. The goal, to celebrate family farms! Clear your calorie counter, this is going to be epic!
Sunday's main event – COCHON 555 features five chefs cooking five pigs in a friendly competition.
This year's competing chefs include…
"Lindsay Autry of Fin & Feather, Xavier Torres of Drunken Dragon, Todd Erickson of Haven South Beach, Jason Pringle of db Bistro Moderne andRichard Hales of Blackbrick". The five chefs, champions of whole hog utilization, will prepare a maximum of six dishes with hopes to win votes from a crowd of hungry gourmands and celebrated judges.
"They will be preparing the following heritage breeds from family farms including a Berkshire from Florida Fresh Meats, two Large Blacks, one from Maverick Meats and one from FKS Farms, a Hereford from Palmetto Creek Farms and a Red Wattle from South Florida Heritage Farm."
Keep the belly ready for Sunday! The Miami version of this fairy-tale heritage pork event includes more than 36 chef-prepared dishes in an all-inclusive stand up reception with notable tastings from Wines of Germany and St. Francis Winery. Cochon's "pop-up" culinary experiences include the Petit Format Bar presented by Wilsonart® Quartzdecorative surfacing featuring a selection of amazing half-bottles and the Mezcal Chupito Bar where guests can enter to win a 4-day Mezcal adventure to Mexico.
Upon arrival, guests will enjoy Buffalo Trace's "Welcome Punch Reception" paired with a delicious bite. Attendees will sample foods at signature experiences like theMonger Cheese Bar with The Cheese Course, Rappahannock Oyster Shelf,Prosciutto di Parma, Black River Caviar,Hudson Valley Foie Gras and the famousTarTare Bar featuring Creekstone Farms prepared by Chef Jose Mendin of Pubbelly. Bourbon and whiskey lovers rejoice with the return of Whistle Pig Rye and the "Perfect Manhattan Experience" featuring Eagle Rare, Buffalo Trace,Breckenridge Bourbon and Hirsch finished with Luxardo cherries in this hand-prepared classic topped with a special treat from Creminelli. As guests leave the event, they'll receive a special departing gift from La Brea Bakery.
BUY TICKETS HERE – http://cochon555.com/2015-tour/miami/
Sunday, April 19th, 2015 at Loews Miami Beach Hotel 1601 Collins Avenue Miami Beach Fl. 33139
Also of interest