With No License, Berks Family Detention Center Must Shut Down
Redacción el Sol | 2/20/2016, 9 a.m.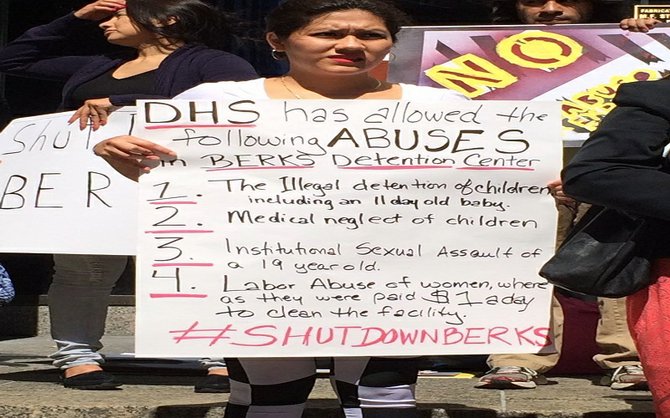 After months of advocacy by community members, local immigrant rights activists, lawyers and faithabased organizations, on February 22, 2016 the Berks County Family Detention Center (BCRC) will no longer be licensed to detain families.
On January 27, 2016, aftera months of community pressure and evidence of human rights abuses at BCRC, including a rape of a mother by a guard, labor abuses, and medical neglect of the families and children, the Pennsylvania Department of Human Services (PA DHS) issued a notice that it would not renew the license for BCRC, effectively ending family detention in Pennsylvania. The license will expire on February 21, 2016 and as of Monday, February 22, BCRC will not only be operating without a license and in direct violation of state law, but will also be operating in violation of federa
Join us as we Demand for the Liberation of our Families!
When: Monday, February 22nd, 2016
Time: 8:00am at ICE Office 10:30am at BCRC
Starting: Immigration and Customs Enforcement Offices (ICE), 1600 Callowhill St. Philadelphia, PA
Ending: Berks County Detention Center, 1040 Berks Road, Leesport, PA 19533
l law, following two federal court rulings against the incarceration of families and the ordering for their immediate release.
Given the record of inhumane conditions and that operation of BCRC is against state and federal law, we demand that BCRC be immediately shut down.

PA DHS should order an Emergency Removal of families while the appeal is in process, as they have done in the past when revoking a license.
The County Commissioners should drop their appeal and stop participating in this painful and inhumane practice, and
ICE should end their policy of family detention and be held accountable for their violation of federal law.
30 mothers currently detained in BCRC also pleaded for their and their children's release in an open letter just last week as well. (Spanish original here, English translation here)

Join the call of freedom with these 30 mothers and with us as we fight for an end to family detention in PA and everywhere!
The Shut Down Berks Campaign is a grassroots coalition fighting to shut down the Berks County Family Detention Center and end family detention. Members include Detention Watch Network, GALAEI, Juntos, Make the Road PA, Migrant Power Movement, #Not1More, Pennsylvania Immigration and Citizenship Coalition (PICC), Unitarian Universalist Pennsylvania Legislative Action Network (UUPLAN) and We Belong Together.