Miami Marathon 2016
Cultural infusion highlights all that makes "Miami Famous"
1/7/2016, 11:05 a.m.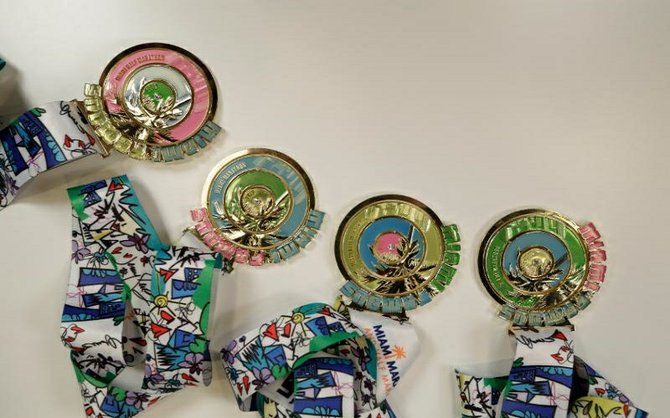 MIAMI, Fl. (January 7, 2015) - Art and Culture are a two of the elements that make South Florida a unique tourism destination as well as a one-of-a-kind running spot for the International participants in The Miami Marathon And Half Marathon. The 2016 edition of Miami's elite running event will have several artistic touches from a medal ribbon designed by local pop artist Jenny Perez to a theme song written by Marathon Race Director Javier Sanchez and recorded with local band El Side Project.

Perez will touch several elements of the January 24 race, owned and produced by Life Time - The Healthy Way of Life Company. In addition to designing the medal ribbon, she also will do live painting at the Health & Fitness Expo presented by the Miami Herald and El Nuevo Herald, and mingle with guests at a pre-race VIP party.
About the Miami Marathon
The Miami Marathon is Florida's elite distance race with 25,000 runners representing all 50 states and more than 80 countries converging on Miami and South Beach to experience one of the most unique courses in the world. The race has come a long way since 3,400 runners participated in the first Miami Marathon in 2003.
Participants include elite runners, top age-group competitors, and many thousands who run for charity and to achieve their own personal goals. Together they enjoy the tropical views and the sounds of South Florida, with a diverse array of entertainment blended into the experience, and generate more than $50 million in total economic impact for the city of Miami and Miami-Dade County.
Perez' works feature fresh perspectives to many of her personal experiences. She began her career as a visual artist, primarily using canvases and acrylic paint as her medium. The past seven years she has expanded to other mediums and her work has been incorporated at venues, stores and on street murals. The Miami Marathon medal extends her versatility.
"This special piece was created specifically for the runners," Perez said. "I wanted to paint something that would uplift their spirits and motivate them to continue on their race. The theme of the race is "Miami Famous," so I decided to create a Miami scene of our iconic buildings, and of course integrated into all those tall skyscrapers a house, because it's home, our home."
She continues, "In addition, hearts float whimsically above in the sky alongside abstract flowers, both representing life. My female character is essentially the embodiment of all of those runners out there. She is strong, vivacious and grounded, she is the mother, the reflection and the extension to the city. She is Miami Famous."
The medal itself has always been one of the hot talk topics for Marathon participants with its spinning center and various designs throughout the years. This year, there will be nine different renditions of the medal in different colors.
"It's no secret that Miami's culture includes vibrant music, thriving art, delicious food, award-winning nightlife and celebrated beaches. We're thrilled to infuse all of these exciting elements into Miami's marathon and celebrate that this experience is just that ...100 % Miami," Race Director Javier Sanchez said. "We are trying to stay fresh and different. We think the random variety of colors will be a talking point. People might decide to trade them after the race."
One of the goals of the Miami Marathon has always been to give a diverse snapshot into the culture and beauty that make Miami one of the world's unique running destinations. The race draws participants from all 50 states and more than 80 countries. In fact, more than 22% of participants come from outside of the United States.
Sanchez penned the training song "Go" with local band El Side Project. It has an up-tempo almost disco beat and inspires runners to "focus on the goal, get in the zone" and to keep going "no matter what happens." The song will be played at the Expo and at the race itself.