More than 230,000 Miami-Dade kids rely on school lunches. What happens during summer?
Redacción Agencias | 8/3/2017, 7:20 a.m.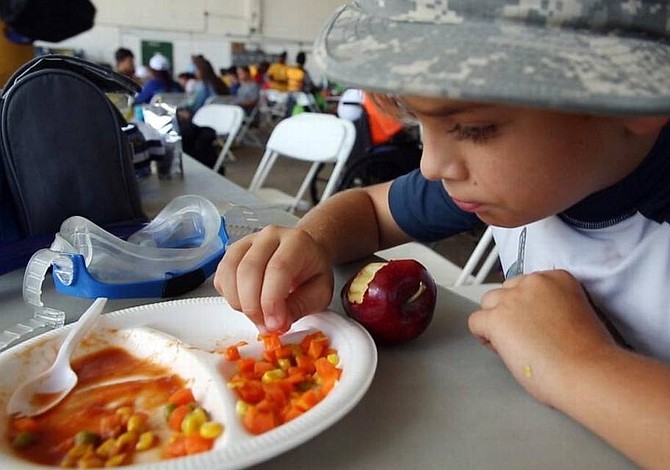 Matteo Christiansen stops picking corn kernels from his vegetable medley when someone asks him what his favorite summer lunch is. He thinks for a moment.
"Pizza!" another boy suggests.
"No, that's unhealthy," the 9-year-old shoots back as he eats his lunch at the Shake-A-Leg summer camp in Coconut Grove. "Probably the meatball sub. Or the steak."
Thanks to Florida's Summer BreakSpot program, Matteo and other children like him have options. Shake-A-Leg's camp is one of nearly 1,000 sites around Miami-Dade County that offers children under 18 free meals throughout the summer. Those meals are available at Miami-Dade County Public Schools, many city of Miami parks or as part of summer camps, which can use the money they save to provide other free educational activities.
The USDA Summer Food Service Program ensures that millions of children who receive free or reduced lunches during the school year do not go hungry when school is out. Nationally, they help subsidize more than 200 million meals every summer.
In Miami-Dade County, more than 230,000 students are eligible for free or reduced lunches throughout the school year, and many rely on those meals. (All public school students are entitled to free breakfast during the year.)
But when it's summer, a hot, nutritious meal can become scarce for many of them. That's where a network of agencies helps bring the USDA-subsidized lunches to children in South Florida. Florida's Summer BreakSpot, which administers the USDA program, served nearly four million meals (lunch, dinner, snacks) to children at these sites last summer, with that number expected to rise this year.
Simply feeding the kids is not enough, though. Agencies work with caterers to create meals that children will want to eat.
Before 5 a.m. on a recent Wednesday, the staff at Exquisite Catering by Robert in North Miami is starting to pack more than 18,000 hot meals that the company will deliver to children at more than 150 sites throughout South Florida. He is just one of the caterers hired to create lunches that adhere to the USDA's nutritional guidelines.
"For a lot of kids, it's the only hot meal they're getting," owner Robert Egert said.
Simply meeting the nutritional requirements isn't enough, Egert said. He wants to use every bit of the $3 per meal the USDA gives him to create the best possible meal — one the children will want to eat. He makes only about 15 cents on each meal, he said, but the volume makes it worth his time.
He creates a menu with a different meal every day for three weeks (with the exception of pizza Fridays). One day, the menu could feature Salisbury steak or mojo-marinated chicken. On others, it might be chicken meatball subs with a side of vegetables.
Egert provides a hot lunch unless a site specifically asks for a cold plate.
"It doesn't cost any more to make a kid a hot hamburger that he's going to love than a cold-cut sandwich," he said.
Egbert's fleet of more than 20 trucks delivers the meals to summer camps and public sites like city of Miami parks. Most of the sites are in areas where at least half of the children qualify for free or reduced-price meals during the school year.