Trash detectives hunt down Miami's illegal dumpers
Redacción Agencias | 8/7/2017, 7:20 a.m.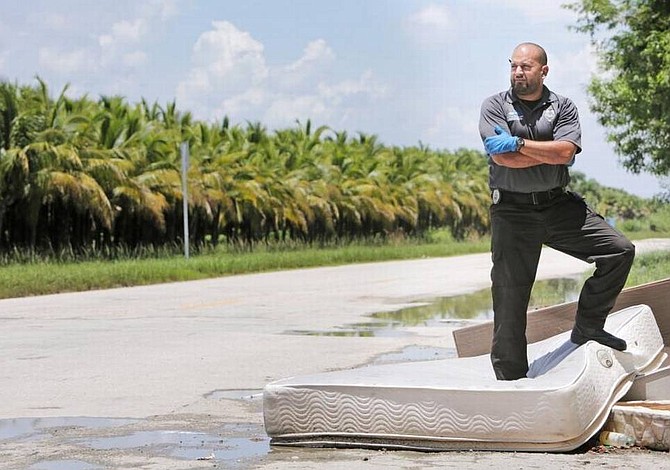 The mattresses and duct insulation and roofing tiles that Miami's professional trash dumpers like to abandon on county roads rarely yield much evidence for investigator Santiago Callejas when he pulls on blue latex gloves to sift through the illicit debris.
It's the minor litter that can really crack a case.
The enforcement officer for Miami-Dade's Solid Waste Department recalls finding a receipt from a tile supplier buried under construction scraps, and he traced the sale to a contractor who eventually admitted to the illegal dumping. Another time, Callejas ripped open a few black trash bags tossed on a grassy swale to find paperwork from a property manager, who blamed a handyman for the mess.
A Pollo Tropical receipt revealed the culprit behind another mound of building trash: A fellow investigator tracked the credit-card number to a homeowner, who said he had bought lunch for roofing workers for a job that included disposal in the fee. Rather than eat the cost of landfill fees, a roofer pocketed the money and dumped the refuse roadside for someone else to handle.
"A lot of people don't think you'll go through the piles," Callejas, 39, said as he approached a mound of soggy mattresses and box springs strewn across the shoulder of Southwest 107th Avenue near Homestead. "Sometimes you'll find an address."
Miami-Dade might raise trash fees for the first time in 11 years this fall, in part to send more crews out to collect the tons of garbage left along side roads by illegal dumpers.
County commissioners, who cite illegal dumping as a top complaint from constituents, recently gave preliminary approval to an extra boost in 2018 trash fees for residents outside city limits in order to pump millions more dollars into the county's Solid Waste department.
While Mayor Carlos Gimenez proposed a $19 increase to the current $439 yearly rate, commissioners endorsed a $25 increase as long as the added $6 per customer goes toward more clean-up crews. A final vote is slated for September.
Miami-Dade would use the money to field four additional crews to remove the debris left by illegal dumpers, said Gayle Love, spokeswoman for the county's Solid Waste Department. It typically takes the department four days to respond to a complaint about illegal dumping, according to budget documents, and the trash itself often lingers longer. With more clean-up crews, the county hopes to speed up the process.
The pile of mattresses that Callejas perused off 107th Avenue on a recent Tuesday morning had been there the previous Friday, too. Removing the debris doesn't keep the roadside clear for long, he said. "They just cleaned this last week," he said.
"It's a disgrace to our county," said Joseph Bolufe, the supervisor of the enforcement division where Callejas works. "They can go dispose of it properly." Instead, he said, "You see this here."
While most cities have their own garbage operations, Miami-Dade provides the service for areas outside city limits and a few cities that don't have their own. Those are the properties that pay the $439 yearly solid-waste fee that's slated to go up in 2018.