Trash detectives hunt down Miami's illegal dumpers
Redacción Agencias | 8/7/2017, 7:20 a.m.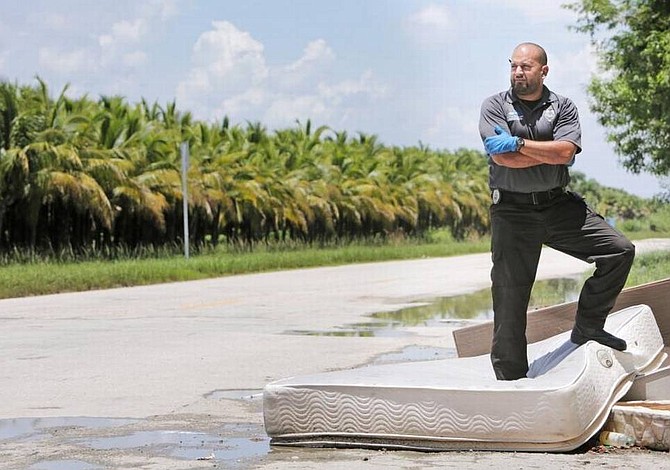 Residents using the county's trash services are entitled to a pair of free pick-ups of bulky waste per year, but they must call Solid Waste to request it. When they don't, trash left by the curb is treated like illegal dumping and subject to a fine. The county fees also cover free use of 13 trash-and-recycling centers, which allow limited dumping: household trash, lawn clippings, up to four tires, and one cubic yard of construction debris.
When Callejas and the other 40 trash sleuths in the enforcement division can't track down the culprit behind an incident of illegal dumping, the property owner next to the mess is held responsible. If it isn't cleaned up, the property owner can face fines of $1,000 or more.
Residential property owners aren't subject to the penalties. They pay for county trash service and a Miami-Dade clean-up crew will come out to pick up the dumped material, said Paul Mauriello, the county's deputy director for waste operations. But nonresidential properties, including churches and businesses, must use commercial trash haulers and aren't eligible for the county's services.
That means if nonresidential owners don't clean up somebody else's mess, they'll face the illegal-dumping fines themselves. And that strikes some county leaders as unfair.
"If the person is a victim because someone is dumping illegally, you're making them a victim twice by citing them," said Commissioner Jean Monestime, whose district north of downtown Miami is home to a string of popular dumping sites. "It's an unfortunate situation."
At Faith Community Baptist Church in the Pinewood neighborhood outside Miami Shores, one volunteer duty involves cleaning up the scrap tires and trash bags that routinely appear outside church property.
"I just had a stroke last year, and I was taking stuff to the dump," said Rev. Richard Dunn, a former Miami city commissioner. "It's trash and clothes and mattresses, desks. You name it. And if you don't get rid of it in a hurry, you get a mountain of it."
When the church didn't clear away a growing pile about a year ago, it had to pay an $800 fine to the county, Dunn said.
"We tell them, 'We're not dumping. You can see it's not coming from our church,' " Dunn said. "They said: 'You have to catch them.' Isn't that something?"
Dunn said the church might install surveillance cameras to deter dumpers, or plant trees to eliminate the open swath of grass that is so appealing as an illicit trash dump. Mauriello, the Solid Waste official, said the key is for an owner to make improvements in an area prone to illegal dumping to make culprits see it as a well-tended piece of property.
"One thing you can do is make sure the area is well lit. You can plant trees there. You can sod it," he said. "You have to make it look like someone is paying attention."
The county installs surveillance cameras above some popular dumping spots and recently started using portable "game cams" designed for snapping photos of wild animals at night in areas where electricity isn't available. One video shows a man in a brown Ford pick-up truck filled with boxes and what looked like bags of yard waste. Dressed in a black tank top in the middle of the day, the man got out, pushed the trash under a gumbo limbo tree, and left. The camera caught his tag, and he was issued a $400 fine.