French police search home of suspect in attack on troops
Redacción Agencias | 8/10/2017, 7:21 a.m.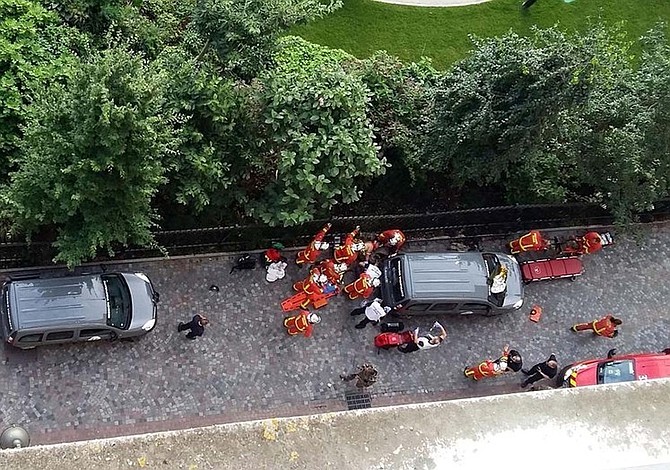 Police searched the home of the man suspected of plowing his car into a group of soldiers Wednesday morning in suburban Paris, French media outlets said.
Masked officers entered the residence in Bezons, near Paris, around 3:30 pm, Le Parisien newspaper said on its Web site.
France Info radio identified the suspect as Hamou B. and said he was born in Algeria in 1980.
Though he has a record of arrests for minor offenses, the suspect was not on any terrorism watch-list, according to media accounts.
The attack took place at 8:30 am in the upmarket west Paris suburb of Levallois-Perret, outside the military barracks where a 50-member detachment of Operation Sentinelle - set up after the November 2015 terrorist attacks in Paris - was stationed.
The driver of a black BMW waited for the soldiers to come out of the barracks and then sped toward them while driving on the wrong side of the road, injuring six of the troops.
French police later arrested Hamou B. behind the wheel of the car used in the attack.
Prime Minister Edouard Philippe confirmed that the suspect had been intercepted on the highway connecting Paris with the northern city of Boulogne-sur-Mer.
Philippe declined to provide any further details on the arrest and insisted the case was still "in the investigation phase."
The suspect, according to unverified reports by BFM TV, suffered gunshot wounds after police opened fire and was hospitalized in serious condition.
During his flight, the suspect reportedly crashed into a police vehicle before making a suspicious gesture and officers, faced with the prospect of his being armed, decided to shoot at the car in order to neutralize him, BFM TV said.
A police officer was also wounded.
Interior Minister Gerard Collomb thanked security forces for their work.
"Thanks to our (security) services, fully mobilized following the Levallois attack," Collomb wrote on Twitter.
Earlier in the day, the mayor of Levallois-Perret, Patrick Balkany, had called the attack an "intolerable aggression" against soldiers and described it as "shameful."
"Without any doubt, it was a deliberate act," Balkany told BFM TV.
Levallois-Perret hosts the headquarters of France's DGSI internal security agency and of the national police counter-terrorism unit.