Miami-Dade County School Board Votes To Authorize Legal Action Against HB7069
Redacción Agencias | 8/10/2017, 7:20 a.m.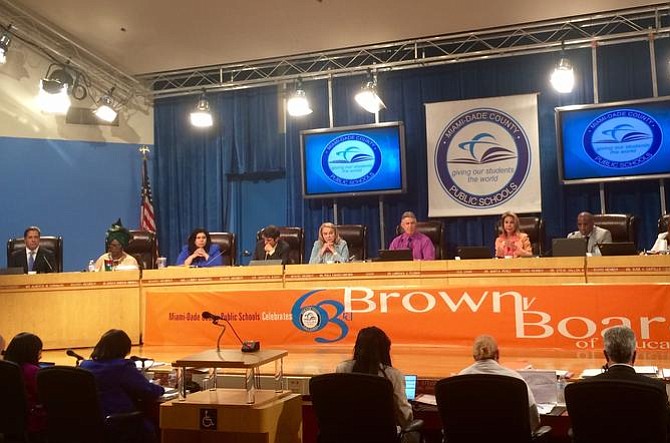 The School Board of Miami-Dade County voted on Wednesday to authorize legal action to challenge the controversial House Bill 7069, signed by Gov. Rick Scott in June.
"The word that comes to mind is courage," said Dr. Dorothy Bendross-Mindingall during discussion. "We've got to have the courage to do what is right."
Bill 7069 is seen as a threat to already struggling public schools because it forces school districts around the state to share with privately operated charter schools millions of local tax dollars earmarked for school construction. It also provides for subsidies for charter schools to move into some low-income areas.
Days after the governor signed the bill into law, the Miami-Dade School Board met for a workshop to discuss legal options.
Although it was acknowledged that the bill has many provisions that could be beneficial - including a daily recess requirement and $30 million in extra funding to expand a voucher program for children with disabilities - attorneys offered advice on how the provisions deemed less desirable could be challenged in court.

Several school board members emphasized their support for school choice Wednesday afternoon, but they agreed the new law infringes on their constitutional authority over schools. They approved the use of $30,000 in non-public funds to finance a potential lawsuit. Superintendent Alberto Carvalho suggested using money from a settlement of earlier litigation with British Petroleum.
During public comment, several people spoke to the school board in support of legal action, including parents and representatives from the Miami-Dade League of Women Voters and the United Teachers of Dade union.
After some discussion, board members agreed to prioritize other options for fighting the law. They plan to send a letter to the governor and state leaders requesting a special legislative session before February to discuss the impact of HB 7069 on school districts.
School board attorney Walter Harvey said that though several school boards in Florida have committed to legal action, an actual lawsuit has yet to be filed.
It's still unclear exactly what a lawsuit will look like or how school districts across Florida will collaborate. "If in fact we are going to find out what others want to do, then we need to sit at that table," said school board chair Dr. Lawrence Feldman. He said representatives from various districts plan to meet in the coming weeks.