"War for the Planet of the Apes" lidera los estrenos en EEUU
Redacción Agencias | 7/14/2017, 5:55 p.m.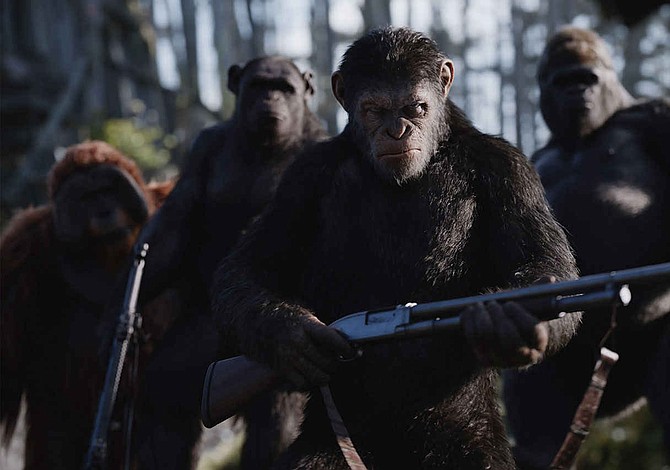 "War for the Planet of the Apes", el fin de la trilogía de los simios que iniciaron "Rise of the Planet of the Apes" y "Dawn of the Planet of the Apes", figura como el estreno más destacado de la cartelera en Estados Unidos este fin de semana.
Dirigida por Matt Reeves, que ya se hizo cargo de la segunda parte de esta saga, "War for the Planet of the Apes" cuenta en su elenco con los actores Andy Serkis, Woody Harrelson y Steve Zahn.
El simio César (Serkis) y su séquito se ven obligados a luchar en una guerra mortal con los humanos que quedan en el mundo y que están liderados por el despiadado Coronel (Harrelson).
John R. Leonetti, el realizador de "Annabelle", vuelve al cine de terror con "Wish Upon", una cinta protagonizada por Joey King y Ryan Phillippe.
Una joven descubre una misteriosa caja que hace realidad los deseos de su poseedor, pero que a cambio provocará temibles consecuencias a su alrededor.
En cuanto a los estrenos limitados de este fin de semana destacan "Blind", "Chasing Coral" y "Lady Macbeth".
El realizador William Oldroyd adapta la novela "Lady Macbeth of Mtsenk" del escritor Nikolai Leskov en un filme que se centra en una mujer que fue vendida a su luego esposo y que inicia un romance con un amante.
Alec Baldwin y Demi Moore forman la pareja protagonista de "Blind", una cinta sobre la relación entre un escritor ciego y una mujer condenada a trabajos sociales.
Por último, el documental "Chasing Coral", del director Jeff Orlowski, explora la desaparición de los arrecifes de coral por culpa de la acción del hombre.