Miami-Dade commissioner readies transit-tax fight
Redacción Agencias | 7/17/2017, 7:16 a.m.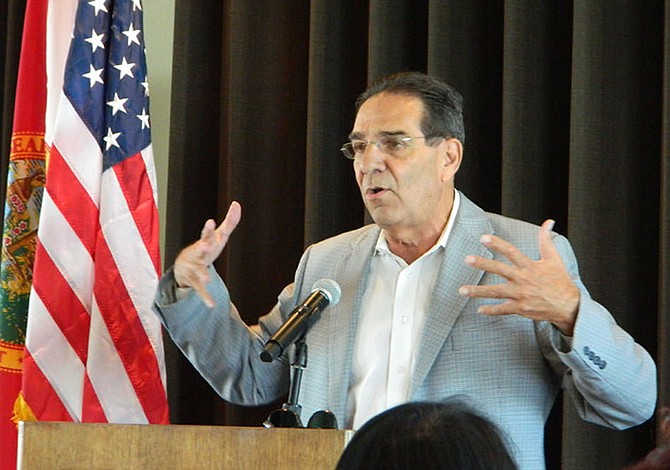 Miami-Dade Commissioner Xavier Suarez has tapped a string of elected officials to help him pressure the county to stop using a transportation tax to plug holes in the transit budget.
Suarez wants to divert tax dollars from the county's cash-strapped transit agency to a plan to spend at least $3 billion expanding rail countywide. On Thursday, he led a progression of local officials, including Miami Mayor Tomás Regalado and Florida Rep. Kionne McGhee, urging the board that oversees the tax to back ending the transit subsidy.
"We need help," McGhee, a Democrat representing South Dade, told the Citizens' Independent Transportation Trust. "The south is suffering."
Miami-Dade voters in 2002 approved a half-percent sales tax to fund transportation, including a promised expansion of Metrorail. Fifteen years later, the system has only grown by about two miles, while tens of millions of dollars subsidize transit operations that used to rely on property taxes to fill budget holes.
The CITT board passed a resolution sponsored by Suarez's appointee to the panel, Melissa Dynan, that urged the County Commission to shift $50 million of the current $94 million subsidy away from transit operations and to expanding the transit system. Suarez argues Miami-Dade could $50 million from the overall $7 billion budget to fill the hole left in transit, but county officials say that would require drastic cuts.
"There is not enough fat to find $50 million," budget chief Jennifer Moon told the board.
The operating subsidy is set to drop about 30 percent for the 2018 budget year that begins Oct. 1 as more of the transit tax is needed for debt payments not related to rail expansion. And the CITT board already has endorsed ending the operating subsidy over several years. The resolution that passed Thursday called for stripping the $50 million out of the budget in a matter of months.
While the resolution backs Suarez's position, it was written as an urging of county commissioners rather than in a way that would force the commission to either adopt the policy or formally overrule the oversight board. Suarez said he was hoping for the more forceful version, but was happy to have the message delivered as the county considers how to fund the multi-billion-dollar SMART Plan to expand rail along six corridors countywide.
"We're going to build the damn thing," he said Saturday.
Suarez, a former Miami mayor, is widely considered a potential candidate for county mayor in 2020. His son, Francis, is the favorite to succeed Regalado as mayor this fall.