Death toll at fire in London apartment block rises to 12, likely to rise
Redacción Agencias | 6/15/2017, 7:26 a.m.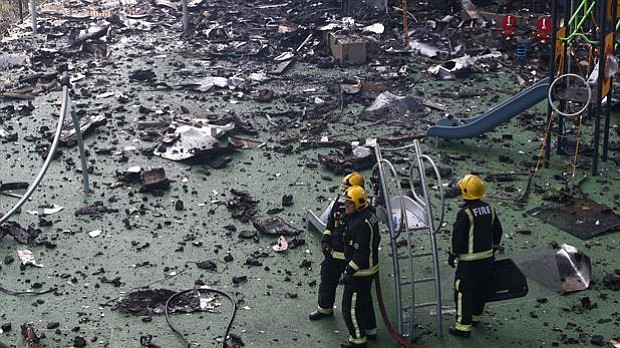 London police on Wednesday afternoon upgraded the death toll in a blaze that engulfed an apartment block in the west of the city to 12, adding that the number of fatalities was expected to rise still further.
Firefighters rescued 65 people from Grenfell Tower near Ladbroke Grove underground station after receiving a call for help just after midnight.
A residents' association representing an area of London where the apartment block was located said it had repeatedly warned local authorities and landlords of poor fire safety standards.
As firefighters continued to battle a huge fire at Grenfell Tower, the Grenfell Action Group published a list of historic blog posts dating back to 2013 that had flagged up the sub-standard fire safety precautions to the local council, which owns the property, as well as the company in charge of property management on the council's behalf.
"All our warnings fell on deaf ears and we predicted that a catastrophe like this was inevitable and just a matter of time," said the action group on its blog site.
In a blog post titled "Playing with Fire" dated Nov. 20, 2016, the group said it firmly believed "that only a catastrophic event will expose the ineptitude and incompetence of our landlord, the KCTMO (Kensington and Chelsea Tenant Management Organization)."
It continued: "It is our conviction that a serious fire in a tower block or similar high density residential property is the most likely reason that those who wield power at the KCTMO will be found out and brought to justice!"
Meanwhile, Roydon contractors, who were employed to carry out restorations at Grenfell Tower for KCTMO on behalf of the Royal Borough of Kensington and Chelsea council in 2016, have insisted that the refurbishments they had carried out "all required building control, fire regulation, and health and safety standards."
The company said it would cooperate with the authorities and the emergency services with their inquiries into the cause of the fire.
Mayor of London Sadiq Khan said there would be many questions over the coming days as to the cause of the blaze and reassured Londoners that those questions would be answered.
Firefighters were called out to reports of a huge blaze in the apartments at around 1:00 am local time, when most of the residents would have been asleep.
The flames spread quickly through the complex, gutting much of the interior and carbonizing swathes of the external facade.
Emergency workers initially said at least six people had died, but warned that the number of fatalities was expected to rise.
Hundreds of emergency workers attended the scene.