Death toll of London apartment block fire up to 17, rescue efforts continue
Redacción Agencias | 6/16/2017, 7:26 a.m.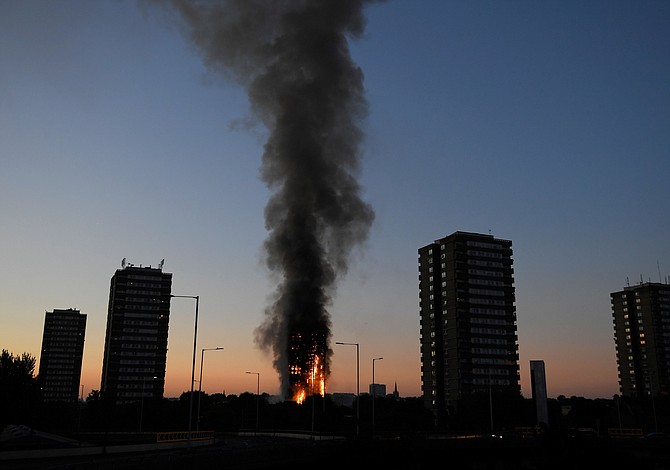 More bodies were found at the scene of a fire that raged through an apartment block in London, raising the death toll to 17, the Metropolitan Police said Thursday.
Commander Stuart Cundy said the number was expected to rise and that an unknown number of people were missing, while 17 of the 37 people who were hospitalized remained in critical condition.
"Our absolute priority is about locating and identifying those people that are still missing," he said, though he was not able to specify how many people were unaccounted for.
Fire Commissioner Dany Cotton said specialist search and rescue teams would be working to make the building safe for firefighters and police to enter and begin searching for and identifying people who may have been in the building.
She said the building required a considerable amount of work to secure the floors before it would be safe for rescuers to enter.
Teams would be preceded by sniffer dogs who, because of their light weight, could search dangerous areas faster.
"Obviously this will be a very slow and painstaking process," she said.
Firefighters worked overnight at the scene of the devastating fire that gutted Grenfell Tower in west London, near Ladbroke Grove underground station, where the blaze began very early on Wednesday morning.
Television news correspondents reported from the scene as dusk fell Wednesday with fires still glowing within the tower block.
Cotton earlier told Sky News they were "not expecting to find anyone else alive," and it would be an "absolute miracle" if anyone were found still living, given the "severity and the heat of the fire."
Prime Minister Theresa May visited the scene of the fire on Thursday and spoke to police and firefighters there.
"When it's possible to identify the cause of this fire, then of course there will be proper investigation and if there are any lessons to be learnt they will be, and action will be taken," May had said earlier.
The tower block housed 120 apartments in which between 400-600 people were estimated to have lived, including many families with young children.
Experts have questioned whether the cladding installed on the sides of the tower in 2015 could have caused the fire to spread so quickly, according to media reports.