Trump: Wounded congressman's condition worse than initially thought
Redacción Agencias | 6/16/2017, 7:27 a.m.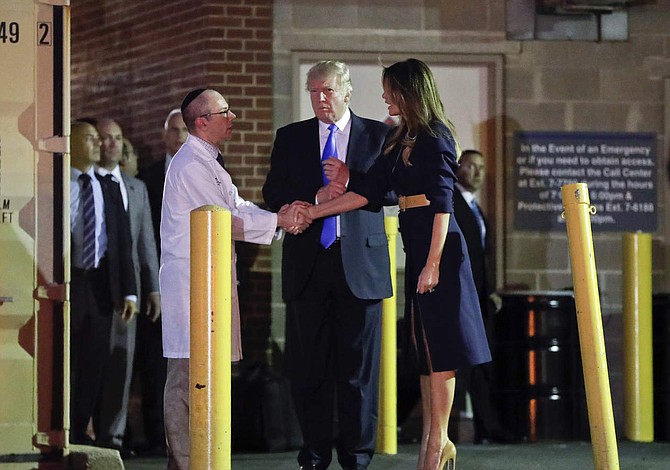 The president of the United States said Thursday that the condition of a high-ranking congressman wounded in a shooting the day before in Virginia was worse than many had initially realized.
Donald Trump made his remarks about Rep. Steve Scalise of Louisiana, the majority whip of the US House of Representatives, in a brief statement at the White House during a workforce development ceremony.
"It's been much more difficult than people even thought at that time," Trump, who visited Scalise Wednesday night at a Washington hospital, said. "He's in some trouble."
The third-ranking Republican in the lower house of Congress and four other people were wounded when a gunman identified as 66-year-old James Hodgkinson of Illinois, a man who had threatened violence against "Trump & Co." on social media, opened fire on Republican lawmakers taking part in a baseball practice Wednesday morning at Eugene Simpson Stadium Park in Alexandria, Virginia.
The GOP legislators were getting ready to compete against their Democratic counterparts in the annual congressional charity baseball game, which is to played on Thursday night.
The 51-year-old Scalise underwent emergency surgery Wednesday at MedStar Washington Hospital Center and is in critical condition, according to doctors.
"Scalise sustained a single rifle shot to the left hip. The bullet traveled across his pelvis, fracturing bones, injuring internal organs and causing severe bleeding," the hospital said in its latest update Wednesday night.
"He has received multiple units of blood transfusion ... and will require additional operations."
After reportedly confirming that the lawmakers on the field were Republicans and not Democrats, Hodgkinson - armed with an assault rifle and handgun - fired dozens of shots before being fatally wounded by US Capital Police, who were on the scene as part of Scalise's security detail.
The suspect, who supported Democratic Sen. Bernie Sanders of Vermont in the 2016 presidential race, had been angered by Trump's policies and written a threatening message on Facebook.
"Trump is a Traitor. Trump has Destroyed Our Democracy. It's Time To Destroy Trump & Co," Hodgkinson wrote.
Zachary Barth, a staff member for Rep. Roger Williams of Texas; Matt Mika, a lobbyist and former congressional aide; and two members of the US Capitol Police force who exchanged gunfire with the assailant and are widely credited by eyewitnesses with preventing a massacre, also were shot and wounded in the attack.
Those police officers were only there because of Scalise, who like other members of the House and Senate leadership receive around-the-clock security details.
Also of interest