Keystone First: Moms2B Baby Shower at Concilio
Helping Mothers to Have Safe Pregnancies and Healthy Babies
Redacción Agencias | 6/30/2017, 2:49 p.m.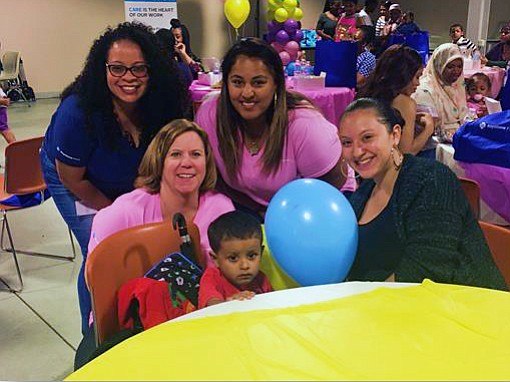 In June, Keystone First, Pennsylvania's largest Medicaid managed care organization, hosted its second Moms2B Baby Shower of 2017 at Concilio, the oldest Latino organization in Philadelphia. Numerous moms-to-be and new mothers attended the event, where health care professionals informed them of the importance of regular prenatal care, infant sleep safety, stress management, nutrition, and effective parent-child communication. Through these community baby showers, Keystone First provides women with additional support in a fun and relaxed atmosphere while connecting its pregnant members with care managers from Keystone First's specialized prenatal care program, Bright Start®.
Bright Start is an innovative care management program that has improved birth outcomes and reduced the incidence of pregnancy-related complications through early prenatal education and intervention. Through this program, care managers advocate for members during pregnancy and into the postpartum period by coordinating both medical care and social services for women with high-risk pregnancies. Expectant mothers receive help finding the right doctor for their needs, retrieving information about prenatal vitamins, and locating additional resources.
"Our baby showers offer a change of scenery and perspective that often provides the comfort necessary for members to open up and raise questions about their own health and the health of their babies," said Keystone First Market President Joanne McFall. "This type of event also serves as an excellent opportunity to offer more information on some of our newest programs, such as Keystone First's Keys to Your Care®."
Keys to Your Care is a holistic engagement program that helps encourage members to make and keep doctors' appointments throughout their pregnancies and the postpartum period. The program combines texts, telephonic appointment reminders, and written materials to better inform members of the importance of prenatal care and managing stress.
The program has two main goals:
To help members reduce the risk of having premature and/or low birth weight babies, and decrease the volume of neonatal intensive care unit admissions and emergency room visits.

To empower members to take better care of themselves using evidence-based resources, further supporting improved health outcomes and overall member satisfaction.
To date, more than 5,000 members have enrolled in the Keys to Your Care program, which launched in April of 2016.
"It is a privilege to provide the people we serve with the quality care and services they need to have safe pregnancies and healthy babies," added Meg Grant, Director of Public Affairs and Marketing for Keystone First.

Childcare and lunch were provided for all those in attendance as well as healthy snacks, refreshments, dental screenings, and fun games for kids.
If you are a Keystone First member and would like to enroll in Keystone First's Keys to Your Care program, please text the word "MOM" to 85886.
If you are a Keystone First member and would like to learn more about Keystone First's Moms2B Baby Showers, please call Armenda McWilliams-Pettey at 215-937-8740.