Hope behind bars
Emma Restrepo | 3/27/2017, 11:02 a.m.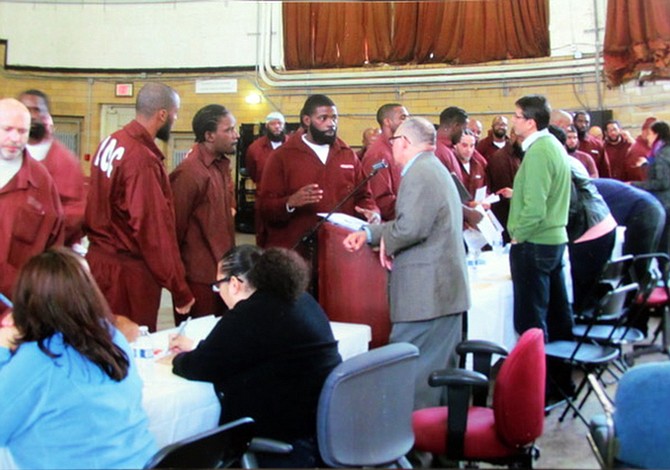 Special for El Sol Latino Newspaper
Over the course of his thirty-three years inside, Luis Suave González, who was sentenced to life when he was still a minor, had never experienced anything like what happened on March 7th in Graterford prison: A visit of from an important group of organizations, represented by their top officials, with the aim of helping a significant number of inmates with their reentry back into society or, at least back into in the Barrio.
The complexity of the U.S. Criminal criminal justice system is no secret. Nor is it a secret that the business of private prisons largely benefits a select few. The United States leads in the world in the production of prisoners; the nation has 1,351 prisons, 646,000 local jails, 211,000 federal inmates, 34,000 juveniles, 14,000 held in U.S. territories such as Guam, and 33,000 at immigrant detention centers.
Why is it important to think about re-entry?
El Sol asked consulted with Anita Colón of the Pennsylvania Coalition for Fair Sentencing of Youth and President of the -Pennsylvania Prison Society Board, why reentry should be a priority. She said: "In June 2012 the Supreme Court of Justice ruled (Miller v. Alabama) that life without parole for minors was unconstitutional. In 2015 the Court made it retroactive, in addition to stating that life sentences for children should be extremely rare. More than 300 of the [Pennsylvania's] 400 "juvenile lifers," who are awaiting new sentencing hearings, are mostly African-Americans and Latinos from Philadelphia. "
That is why after almost two months preparation, this group took a 45-minute trip, new for many, and entered—an experience in and of itself— the Graterford facility. The delegation included: Jennifer Rodriguez, CEO of Greater Philadelphia Hispanic Chamber Of Commerce, GPHCC; Diego Tapia, Program Director, Ceiba; Luis Mora-Rechnitz, President, Finanta; Wilfredo Rojas, First President, Glouster County NAACP; Nilsa Pagán, Executive Director Philadelphia Prevention Partnership, PPP; Leslie Acosta former State Representative District 197; ElZol Radio Station, Roger Zepernick, Free Church of St. John, and their support teams. The group had an organized and productive conversation with a group of inmates. This meeting opened the doors to what could be a clear and serious and articulated streamlined reentry process of reinsertion led in the city by our Hispanic organizations.
The event was attended by 220 inmates, most of whom are Afro-Americans and Latinos, which is not surprising. And although the meeting was organized by Luis Suave Gonzalez, president of the Latin American Cultural Exchange Organization, LACEO, and Roger Zepernick, they were supported by Don Jones, President of the National Association for the Advancement of Color People, NAACP. Both organizations operate in Graterford.
At 1pm, a representative from each organization spoke and then gave the floor to the attendees, who asked enthusiastic questions about finances, business, employment, work, and loans, among other topics. The GPHCC's Rodríguez was surprised when she asked the audience who already had a business plan already. Many hands shot into the air. Once After this question and answer period, this round ended, attendees approached the long table where the organizations and their representatives were seated in an organized fashion, to have one-on-one conversations one by one.
It was a moving image: a large group of hopeful citizens, all dressed in the color of brick, approaching our Hispanic organizations, as a prelude to what is a great first step in rebuilding a society fractured by, among other things, a difficult Criminal justice system.
At the close, ideas for a second meeting emerged. So too did many satisfied faces, those who participated, not only among those who stayed behind bars, but also among those who left.