Powerful quake hits Iraq, Iran killing dozens
Redacción Agencias | 11/13/2017, 7:29 a.m.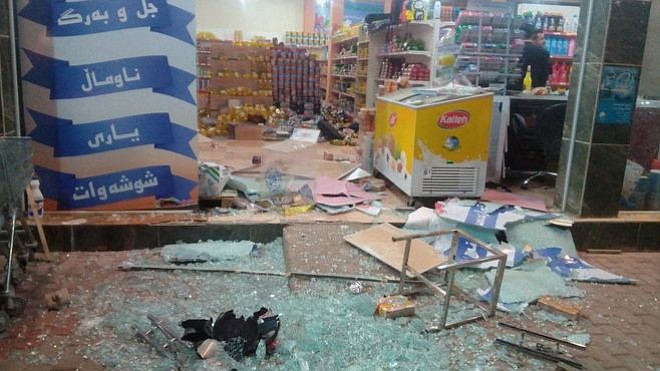 A 7.3-magnitude earthquake struck the northern Iraq-Iran border region on Sunday night, killing at least four people in Iraq and 61 in Iran, authorities in both nations said.
At least 61 people died and at least 300 were injured in the western Iranian province of Kermanshah, bordering on Iraq, in the 7.3-magnitude earthquake that struck the region on Sunday night.
Kermanshah's deputy governor for development, Moytaba Nik Kerdar, reported the latest casualty count to state-run television, adding that the most heavily affected towns were Ghasr Shirin and Sarpul, while other authorities said that the town of Azgale was also hard-hit.
Meanwhile, at least four people were killed and some 500 injured in the Iraqi region of Kurdistan, near the border with Iran, in the quake.
The four Iraqi fatalities occurred in the town of Darbandikhan, located in Suleimaniya province, a mountainous zone in northeastern Iraq just a few miles from the Iranian border, local authorities cited by Iraqi media said.
The autonomous regional government of Kurdistan reported that people had died there, although it did not specify the death toll, and "more than 500" people were injured in Suleimaniya province.
Iraqi Water Resources Minister Saad Al-Yanabi said that landslides had occurred on a mountainside near the Darbandikhan dam as a result of the quake, although at present - due to darkness - the damage is not precisely known.
State-run Iraqi television Al Iraqiya reported that Kirkuk residents ran into the streets when the quake - which had initially been reported as a 7.2-magnitude tremor - struck, as buildings trembled and some sustained damage.
Residents of several Iraqi provinces told EFE by telephone that the temblor could be felt for several minutes but as yet Iraqi authorities have not provided information about any damage.
Ghasr Shirin Gov. Faramarz Akbari, as quoted by Iran's official IRNA news agency, said that there are "a large number of injured."
The head of Iran's Emergency Services, Pir Hosein Kolivand, told the media that rescue efforts are being hampered by the fact that certain rural roads were blocked by the quake.
Numerous aftershocks ranging in magnitude from 4 to 5 were felt in various Iranian provinces, including in Tehran.
The Seismological Center at the University of Tehran said that the quake measured 4.5 in Iran.
Iran is the site of frequent earthquake activity. The most serious quakes that have occurred there to date came in June 1990 and in December 2003, when 37,000 and 31,000 people lost their lives, respectively.
According to the US Geological Survey, the quake struck at 1818 GMT near the Iraqi city of Halabja, in Iraqi Kurdistan, with the epicenter occurring at a depth of 33.9 kilometers (21 miles).
Meanwhile, Kuwait's official news agency, KUNA, reported that the entire country felt the quake, which measured between 4 and 5 on the Richter scale in that region, according to Kuwaiti seismic authorities.