Join us for the29th Annual Easterseals South Florida Festival of Chefs
Redacción Agencias | 11/14/2017, 5:44 p.m.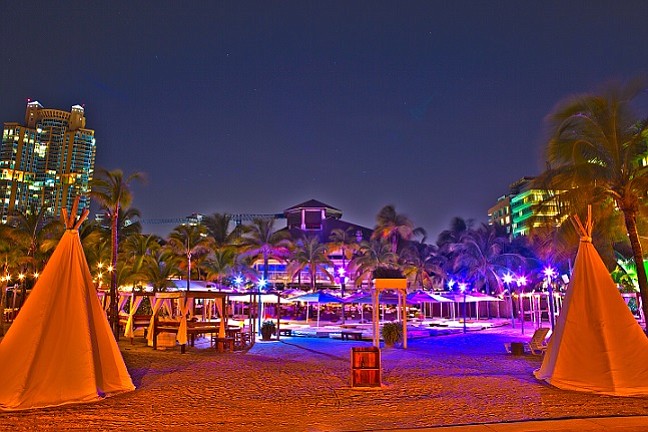 Join us at the 29th Annual Easterseals South Florida Festival of Chefs, Wednesday, November 15that The Rusty Pelican, Key Biscayne Grand Ballroom at 7 p.m. featuring:
• Chef Chair, José Mendín, Pubbelly Sushi
• Host Chef, Jim Pastor, The Rusty Pelican
• Beaker & Gray – Ben Potts
• BLT Steak Miami Beach – Chef Carlos Torres
• Cantina La Veinte & Tacology – Chef Santiago Gomez
• Chef Adrianne's– Chef Adrianne Calvo
• Easterseals Culinary Arts High School Students
• El Rey de la Paella – Chef Giovanni Fernandez
• Exquisito Fine Chocolates – Carolina Quijano
• Fireman Derek's Bake Shop – Derek Kaplan
• Fooq's Miami – Chef Saul Ramos
• Gaijin Izakaya by Cake – Chef Cake
• Goya Foods – Chef Fernando Desa
• King of Racks BBQ at The Wharf - Chef Anthony Garcia
• LA Sweetz – Letty Alvarez
• Lemoni Café – Chef AssiaDahrouch
• Meat Market – Chef Sean Brasel
• MC Kitchen – Chef Dena Marino
• Morton's The Steakhouse– Chef Charlie Fajardo
• Neme Gastro Bar – Chef Ivan Orza
• Nikki Beach Miami Beach – Chef Jorge Allendes
• Nothing Bundt Cakes – John and Monica Reckert
• R House – Chef Rocco Carulli
• Roho Kitchen – Chef Jorge Montes
• Seaspice – Chef Angel Leon
• Sensory Delights Catering – Chef Alain Lemaire
• Soyka – Chef Pedro Lopez
• The Salty Donut –Raceni Richards

• Truluck's – Chef Michael Cerny
The annual event pays tribute to South Florida's culinary scene with an evening of featured signature dishes, wine & spirit tastings, silent auction and entertainment, all to benefit the Easterseals South Florida Culinary Arts High School, a vocational training program for students with autism and other disabilities. At Festival of Chefs, Easterseals culinary students showcase their abilities with a signature dish and incredible hospitality.
Their signature dishes will be complemented by a variety of wine and spirits courtesy of Acqua Panna, AlbarinoValtea, Artisan Don Bernadino Wines from Spain, Atlantico Rum, Casillero del Diablo, Coquito Trigo, Department Coffee, Familia Traversa Wines, Health-Ade Kombucha, Maestro Dobel Tequila, Ponte Vecckio, Rums of Puerto Rico, San Pellegrino, Santos Sangria, Scavi& Ray, Steak & Leaf by Tony Guerra, Stefano's Wine & Liquor, Sysco, The Tank Brewing Co., Tyler's Tonics Craft Tonics, Veza Sur Brewing, Villiger Cigars North America and Zyr Vodka. The event will also feature local award-winningdesserts& refreshments from Exquisito Fine Chocolates, Fireman Derek's Bake Shop, The Salty Donut, Nothing Bundt Cakes and more.In addition, a silent auction of original paintings, sculptures, multimedia artwork, travel, vacations, fine jewelry, and restaurant experiences promises for an altogether memorable evening.
Event sponsors include Edgar Allen Corporate Society Member, Ryder System Inc.,The Rusty Pelican, Barry Solomon Family Trust, Bank of America Merrill Lynch, Cook Prep Eat, Holland & Knight, Northern Trust, Royal Caribbean International, Solstice Point Partners, TD Bank, Victoria Cookware, EY, Goya Foods, Hutzler Foundation, Marlins Foundation,Rossman, Baumberger, Reboso& Spier P.A., Security Alliance, Comcast NBC Universal, Hancock, Askew & Co LLP, Mr. Greens Produce, AC Graphics, Brustman Carrino PR, Cox Media Group Miami, Creativas PR, Food Comma Hospitality Group, Rockaway PR, SocialMiami.com, The Miami Herald/El Nuevo Herald and Tony Guerra Miami.

"Festival of Chefs is a unique opportunity to experience the breadth of culinary talent in South Florida while celebrating and supporting a great and important cause," said Loreen Chant, President and CEO of Easterseals South Florida. "We're thrilled and honored to have the renowned talent of Chef Mendin leading a group of chefs who represent the culinary culture of South Florida for this important and prestigious charity event."
Also of interest