Florida Keys crisis: Help wanted but no place to house workers
Redacción Agencias | 10/9/2017, 7:20 a.m.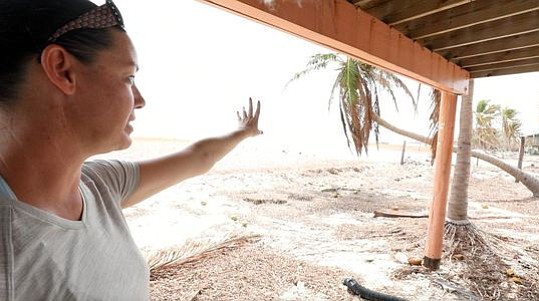 Since arriving in the Florida Keys from Michigan, David Dodge had been sleeping in his van in the Kmart parking lot in Marathon — but not for long.

Leaving home with next to nothing, doing odd jobs along the way, the construction worker filled his van with tools strewn by Hurricane Irma on the Overseas Highway. Now he was going to fetch another Irma roadside freebie — a camper.

"There is work everywhere here, and a lack of people to do the work," Dodge said. "I guess I can help them help me."
As cleanup from the Category 4 hurricane segues into recovery, the Keys are reshuffling like a deck of cards. Out of money and homes, workers in growing numbers are leaving the islands, while businesses rebooting for tourist season hang out help wanted signs.

"Yes, there's a lot of work," said James Sullivan, a soft-spoken handyman living under a blue tarp outside his crushed green trailer in the Avenues on Big Pine Key. "It's just a matter of a roof."
Sullivan has a girlfriend waiting for him in Seattle. He and three other handymen he knows who also lost trailers are leaving the Keys.
"There are a lot of retirement homes here, and they won't find people to fix their doorknobs," he said.
A cashier at the Tom Thumb service station in Marathon, Alicia Zielinski said her company is "hiring for everything, even the in-store Subways. A lot of people left, and a lot of people need jobs."
One applicant apologized to Zielinksi for being dirty because she's now homeless. "I told her, 'I'm not worried about what you look like,'" the cashier said.


Too little, too late for many workers
Before Irma, Monroe County counted less than 900 affordable places to live for the people who directly or indirectly support the Keys' roughly $2.2 billion tourism industry. Between flooded ground floor apartments and mangled trailer parks, the options are gone.
About 933 residents are staying in hotels through FEMA's Transition Shelter Assistance program, the county reports. Marathon's Hyatt Place last week was filled with residents, many of whom had camped in their cars waiting to get a room near their damaged homes.
The Red Cross is sheltering another 70 people at the Sea Base Boy Scout camp on Summerland Key.
The first Keys family received a temporary trailer from FEMA last weekend out of 9,200 units the county requested. It will be months before a critical mass is available, a county website advised.
"It's almost like a genocide of our workforce," said Steve Henson, a Rockland Key site work contractor who offered 3 acres he has under agreement with Walmart as a staging area for the anticipated FEMA trailers.
Without the trailers, Henson estimates 50% of the working people in Key West, who live from Boca Chica to Duck Key — the Keys that took Irma's blunt force trauma — need temporary, and eventually permanent, homes.
The only permanent solution may be leaving
It's not the first time the islands have had to worry about losing workers.