Death toll in California fires climbs to 29
Redacción Agencias | 10/13/2017, 7:20 a.m.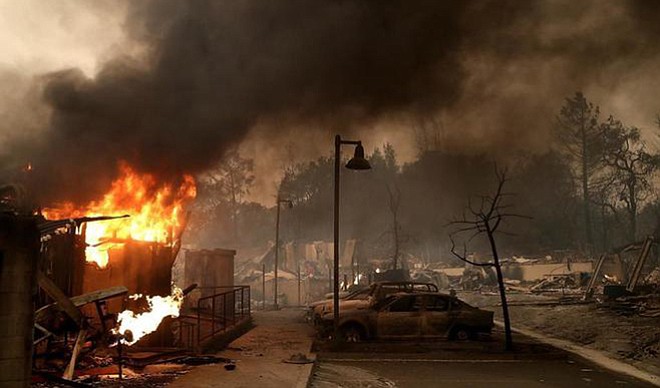 Days of wildfires raging across Northern California have resulted in 29 deaths and destroyed more than 3,500 homes and businesses, authorities said Thursday, while reporting small but significant progress in containing the blazes.
"Fire conditions remained active overnight as over 8,000 firefighters braced for gusty north winds as they battle 21 wildfires that have burned 191,437 acres," CalFire, the state agency that coordinates firefighting efforts, said in its Thursday bulletin.
Officials said they expected winds to decline and humidity to increase Thursday night, improving conditions for the more than 8,000 firefighters and support personnel battling the flames.
More than 20,000 residents of affected areas have been evacuated.
Sonoma County, in the heard of California wine country, accounts for more than half of confirmed fatalities and authorities fear the death toll once first responders begin venturing into neighborhoods devastated by the flames.
The largest active blaze, the Atlas Fire, has consumed 18,000 hectares (444,444 acres) in Sonoma and Napa countries is 3 percent contained.
Investigators are still working to determine the cause of the fires, which began late Sunday.
Sonoma County Sheriff Rob Giordano said that 437 of the 900 county residents reported to his office as missing have been located safe and sound.
Flames have reached some parts of Santa Rosa, a city of 175,000 in Sonoma County.
The fires "have the potential to shift in any direction at any time," CalFire director Ken Pimlott told a news conference. "We are a long way from being done with this catastrophe."