Irma weakens to Category 2 but dangerous storm surge expected
Redacción Agencias | 9/11/2017, 7:22 a.m.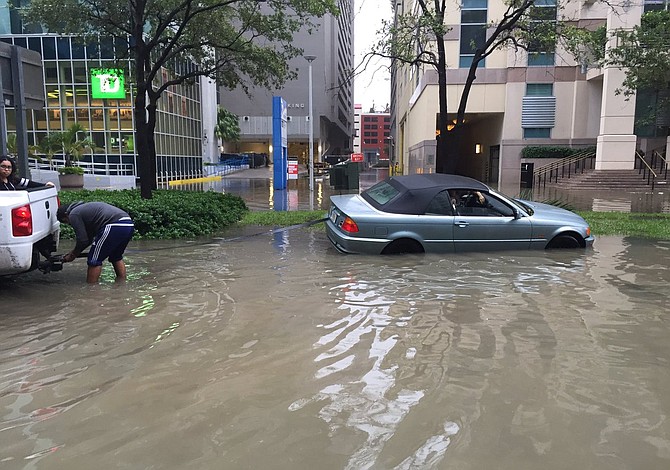 Irma weakened to a Category 2 hurricane Sunday afternoon shortly after making landfall on the southwestern Floridian town of Marco Island and battering nearby Naples, but meteorologists warned of dangerous storm surges in the immediate wake of the eye's passage along Florida's west coast.
The Miami-based National Hurricane Center issued that warning in its 5 pm (2100 GMT) public advisory, in which it said water would reach up to three meters (10 feet) above ground in an area stretching from Captiva (near the city of Fort Myers) to Ana Maria Island (just south of heavily populated Pinellas County.
Pinellas County includes the Gulf coast cities of St. Petersburg and Clearwater, both part of the Tampa Bay area.
Storm-surge triggered water levels were expected to rise to as high as 2.4 meters (eight feet) above ground from Anna Maria Island to Clearwater Beach.
The advisory said Irma had maximum sustained winds of 175 km/h (110 mph), adding that "although weakening is forecast, Irma is expected to remain a hurricane at least through Monday morning? as it moves near or over the west coast of the Florida peninsula.
The storm is then forecast to move inland over northern Florida and southwestern Georgia on Monday afternoon.
Separately, the president of the United States, Donald Trump, said Sunday at the White House after spending the weekend with his Cabinet at his retreat at Camp David, Maryland, that he would visit Florida very soon and praised the work of the US Coast Guard and the Federal Emergency Management Agency.
"I think it's been going really well," Trump, who on Sunday approved a major disaster declaration for Florida, told reporters. "I mean the bad news is this is some big monster, but I think we're really well-coordinated."
While the hurricane is expected to deliver a devastating punch to vulnerable coastal areas of Florida's west coast, Irma also has caused severe damage in other parts of Florida.
Emergency management officials in Monroe County said Irma had left behind a "humanitarian crisis" in the Florida Keys, where its eye first made landfall in the US.
Thus far, authorities only have confirmed the death of three people in hurricane-related car accidents - one in the Florida Keys and two in Central Florida. But officials fear the death toll will rise further once weather conditions allow rescue teams to operate in the Florida Keys.
"The help is on its way," The Florida Keys News quoted Monroe County Emergency Management Director Martin Senterfitt as saying during a conference call Sunday afternoon.
"We're going to get more aid than we've ever seen in our lives," Senterfitt said.
He said the airborne relief mission would start Monday and include regular Air National Guard C-130 flights.
In terms of power outages, Irma has already left 2.5 million customers in Florida - 27 percent of the total - without electricity.
In Miami, two construction cranes collapsed as a result of the powerful storm, although no injuries were reported.
The intense rains and powerful winds gust associated with Irma have caused chaos in Miami, where storm surge caused dangerous flooding in the city's downtown.
In Fort Lauderdale, police arrested nine people for looting several stores, including a clothing store and a sporting goods store. The suspects were caught thanks to footage from the Local 10 network.