Trump issues warning to terrorists at 9/11 ceremony
Redacción Agencias | 9/12/2017, 7:24 a.m.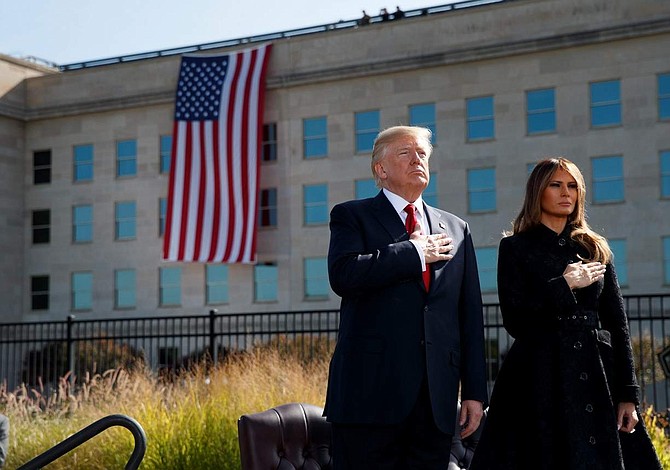 The president of the United States issued a warning to potential terrorists during a ceremony Monday at the Pentagon to honor the victims of the Sept. 11, 2001, attacks on New York and Washington.
"America cannot be intimidated, and those who try will soon join the long list of vanquished enemies who dared to test our mettle," Donald Trump, a New Yorker, said in a brief speech during the solemn ceremony at the Pentagon, the headquarters of the US Department of Defense.
"When America is united, no force on Earth can break us apart -- no force," Trump, who was inaugurated in January, said on the 16th anniversary of the 9/11 attacks.
He added that the horror of that fateful day had been "seared into our national memory forever," recalling that "this was an attack on civilians -- innocent men, women and children whose lives were taken so needlessly."
"Today, our entire nation grieves with you and with every family of those 2,977 innocent souls who were murdered by terrorists 16 years ago," Trump said.
Trump also delivered a message of support to all those affected by Hurricane Irma, which has weakened to a tropical storm as it moves over northern Florida, and Hurricane Harvey, which recently caused severe flooding in Texas and Louisiana.
"I'd like to send our nation's prayers to everyone in the path of Hurricane Irma and to everyone suffering through the devastation of Hurricane Harvey," the president said.
"These are storms of catastrophic severity, and we're marshaling the full resources of the federal government to help our fellow Americans in Florida, Alabama, Georgia, Texas, Louisiana, Tennessee and all of those wonderful places and states in harm's way."
Before visiting the Pentagon, the president and first lady Melania Trump led a moment of silence on the South Lawn of the White House in commemoration of the 9/11 victims.
Like in other years, that tribute took place at 8:46 am local time to mark the instant when the first hijacked plane crashed into the North Tower of New York City's World Trade Center.
Besides the two planes that were crashed into the World Trade Center by al-Qaida terrorists, a third plane was slammed into one of the facades of the Pentagon, the headquarters of the US Department of Defense in Washington, killing 125 people inside the building and the 64 people aboard the aircraft.
Also on that fateful day, a fourth plane crashed in a field near Shanksville, Pennsylvania, as the passengers were trying to subdue the hijackers.
Vice President Mike Pence and his wife will be in Shanksville Monday to pay tribute to the heroes of that United Airlines Flight 93 and their families.
Also of interest