UN says 370,000 Rohingyas have fled to Bangladesh in the last 2 weeks
Redacción Agencias | 9/13/2017, 7:25 a.m.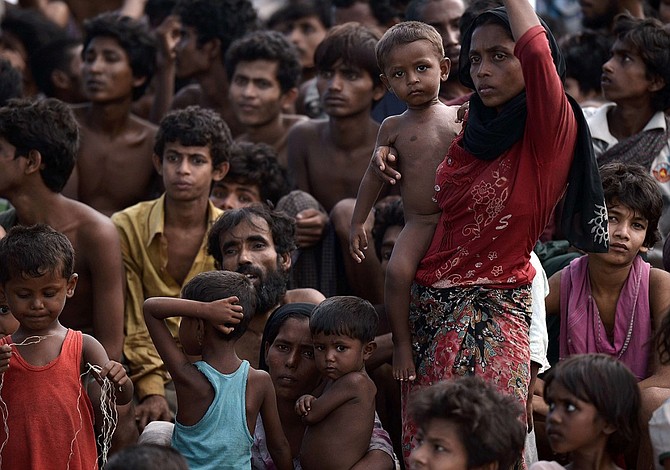 The United Nations on Tuesday estimated that 370,000 Rohingyas had fled to Bangladesh in the last two weeks, escaping from the most recent wave of violence in Myanmar.
Leonard Doyle, the spokesperson for the International Organization for Migration, said at a press conference that the data was based on the latest report released by the Inter Sector Coordination Group, a group based in Cox's Bazar, Bangladesh, where most of the refugees are staying.
Doyle said the sudden leap in numbers _ from 313,000 to 370,000 in one day _ was due to the fact that refugees had moved from the roads and streets to improvised settlements, where there is more information about those who have arrived from Bangladesh.
He said many UN agency teams were now able to better evaluate the situation in villages, hamlets and other small out of the way places where many refugees were staying.
He insisted that there was no way to know how many more could arrive from Myanmar but said there was concerned that the number could greatly increase.
The spokesperson for the UN refugee agency (UNHCR), Adrian Edwards, said in a press conference that humanitarian airplanes had on Tuesday handed over emergency resources to Rohingyas and a second delivery was slated for Tuesday afternoon.
"Many of the new refugees are staying in the makeshift settlements or among local Bangladeshi host communities who generously share whatever resources they have," he said, adding that "these spontaneous sites require proper planning to ensure basic shelter, safety and hygiene standards. "
The director of child support for UNICEF, Jean Lieby, said the flow of refugees was unprecedented and that around 60 percent of those crossing the border were children, who arrived hungry, weak, tired and traumatized.
He said at least 200,000 children were in need of medical care and psychological support and another 1,128 had been separated from their families during the journey.
The current crisis erupted on Aug. 25, when around a thousand fighters from the Arakan Rohingya Salvation Army mounted attacks on 30 government posts in several municipalities near the Burmese border with Bangladesh.
The Myanmar army responded with an aggressive offensive in the region that so far has killed at least 414 people according to official estimates, although the actual number could be much higher according to independent organizations.
Witnesses have denounced that Burmese armed forces have set fire to Rohingya villages and planted anti-personnel landmines on the border with Bangladesh to prevent their escape.
Before the crisis erupted, between 300,000 and 500,000 Rohingyas had been living in Bangladesh, only 32,000 of whom enjoy refugee status.
Also of interest