17-year-old is one of two dead and four shot in Liberty City, cops say
Redacción Agencias | 4/10/2018, 6:31 a.m.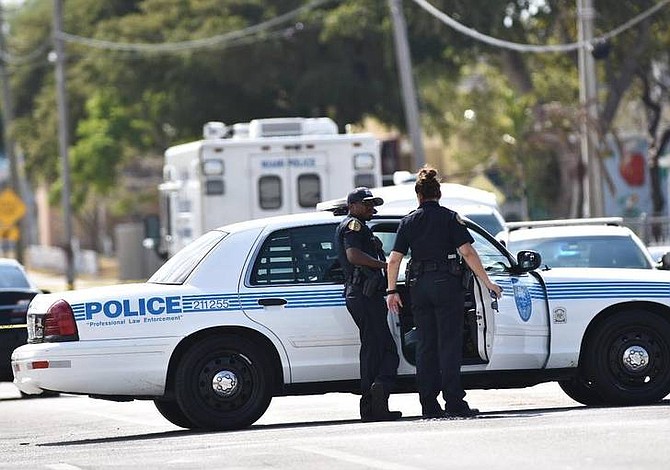 A fusillade of bullets fired by somebody who witnesses said "came through like they thought they were Rambo" felled four young men in the crime-blasted Liberty Square area of Liberty City Sunday afternoon, killing two and sending two others to the hospital.
The shootings ended the lives of Rickey Dixon, 18, and Kimson Green, 17, accordin gto Miami police.
The four were gunned down as they sat on the lawn outside a row of one-floor apartments at Northwest 63 Street and 13th Place. The gunman — or gunmen, plural; police weren't sure — got away, and no one seemed certain if he was in a car or on foot.
But neighbors who heard the shooting from inside their own homes said there was nothing stealthy about the gunfire. One said she believed there were as many as 25 shots; another, that "it was like fireworks going off."
The pall of Sunday's shooting in Liberty Square hung over Northwestern Senior High School early Monday, as students returned to class without two of their own.
One 12th-grader remains in the hospital. The other, a 10th grader, died from bullet wounds Sunday. He was about to be inducted into the National Honor Society on May 9, an achievement his former teachers touted when they spoke to reporters Monday morning.
"He's a great leader. Never a follower," said Shakeita Gunder, one of the student's teachers. "An A-B student."
Valencia Woodbine, the boy's writing teacher, said he had a strong work ethic in school, including on the weekends. "Every Saturday school, he ranked up all the energy in the Saturday academy," she said. "He worked so hard."
Tears streamed down other teachers' faces during the remarks. Miami-Dade Schools Superintendent Alberto Carvalho said many students were arriving Monday to seek grief counseling — more than he'd ever seen before. He implored anyone with information about the shooting to come forward and speak to authorities.
"If you know something, say something," Carvalho said. "Break the silence."
The superintendent, who said he and his entire top administrative team would work out of Northwestern through the day in a show of solidarity with the school community, told reporters he spoke with the 10th grader's grieving mother, offering the school system's support. "Our support should not be about burying her kid," he said. "Our support should be about giving her kid a scholarship to go to college. That will never happen."
One victim was dead when police reached the scene just after 2 p.m., the other died later at Jackson Memorial Hospital. The other two were still being treated late Sunday night. Police refused to identify any of the victims but said one was under 18 while the others were adults.
A dazed woman who showed up at the crime scene hours later to identify one of the victims said his name was Ricky and his age was 17. Gazing around at blocks of Liberty Square public housing — the complex includes 753 units — she gestured with her arm and said in a bewildered voice: "I can't understand how these people can live over here. They can't come out of their houses."