First Lady Frances Wolf Joins Adjutant General and Pennsylvania Commission for Women to Honor Female Veterans During Women's History Month
Redacción El Sol Latino | 4/11/2018, 8:51 a.m.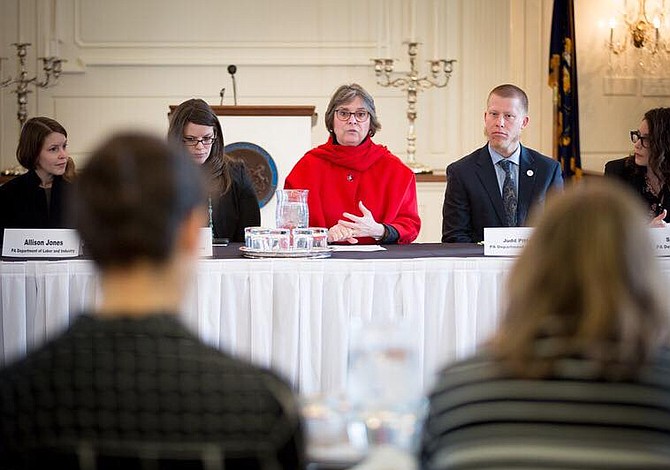 First Lady Frances Wolf and Major General Anthony Carrelli, Pennsylvania's Adjutant General, today joined the Pennsylvania Commission for Women to host the third annual Female Veterans Day Ceremony in celebration of Women's History Month. During the event, held at the Governor's Residence in Harrisburg, 16 women from across the commonwealth were recognized for their military service and selfless sacrifice to Pennsylvania and to the nation
"Each of these women, and all those who have served before them, have made profound sacrifices for the betterment of their country. They have chosen to delay careers, families, and relationships -- putting their own personal goals and desires aside to lend their time and service to their fellow citizens," First Lady Frances Wolf said. "That is exactly why Tom and I have partnered with the Pennsylvania Commission for Women to make this event our Women's History Month celebration each year. Women's History Month is a wonderful time to pause and say thank you to our brave female veterans."
"Women have long been an important part of our military, whether they served as nurses during World War II or as pilots in today's war," said Carrelli. "It says a lot for the loyalty and patriotism of women that for much of American history they could not vote and were not granted equality, yet they still served. We have always been a stronger fighting force with women in uniform."
"On behalf of the Pennsylvania Commission for Women, we are honored to join First Lady Frances Wolf and General Carrelli to honor the courageous and selfless women who have served in the military," Commission Chair Randi Teplitz said. "Women who have served deserve our recognition, and we are excited to share the unique stories and accomplishments of these 16 women who have triumphed in both the public and private sectors."
The following women were honored for their service:
Megan Andros (Pittsburgh) was honored for her service in the U.S. Army. Megan served for five years as an ordinance officer in the Army's 1st Cavalry Division, reaching the rank of captain. She is a veteran of Operation Iraqi Freedom, having served in northwest Baghdad from January 2009 to January 2010. Megan graduated from the United States Military Academy at West Point in 2006 with a Bachelor of Science in international law. After leaving the military, Megan joined the Heinz Endowments as a Community & Economic Development program officer. At the Endowments, she focuses primarily on improving the quality of life for veterans in western Pennsylvania. Her goals are to strengthen the community of veterans and their supporters, improve veteran access to quality health and service organizations, and increase opportunities for veterans in the workforce.
Elaine H. Berkowitz (Pittsburgh) was honored for her service in the U.S. Army. Her education includes a Bachelor of Science in vocational education from the University of Pittsburgh, a Doctor of Dental Medicine from the University of Pittsburgh School of Dental Medicine, and a residency at Ohio State University, College of Dentistry. Dr. Berkowitz was a dental assistant for over 20 years and taught dental assisting at the high school level and at the University of Pittsburgh before going to dental school at age 38. She recently retired from the Army Reserves as a lieutenant colonel with 38 years of service. She deployed four times and has accumulated numerous medals and awards.
Also of interest