Miami-Dade just released a bunch of mosquitoes. And that's a good thing
2/9/2018, 6:31 a.m.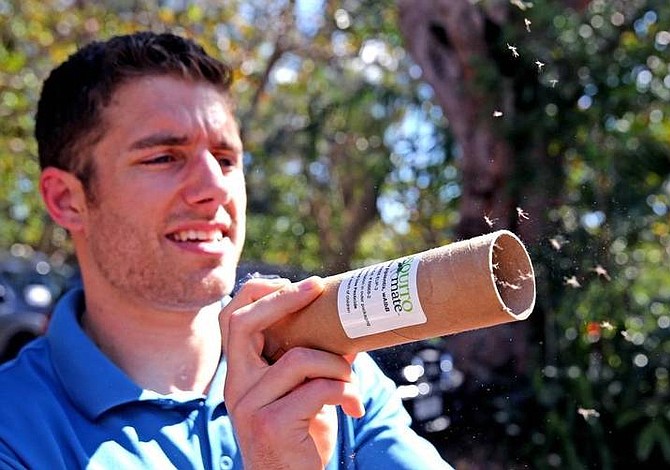 This mosquito season, Annick Sternberg is perfectly happy to have the annoying bugs swarming in her South Miami neighborhood.
The Miami suburb, now recognized as one of the region's greenest for its mayor's effort to ban pesticides and push solar energy, is hosting a field trial for lab-bred male mosquitoes that help control disease-spreading wild populations. The $4.1 million effort, funded by federal money set aside to fight Zika, is the largest of its kind so far and could become the latest weapon in Miami-Dade County's war on urban mosquitoes.
"This is a roll-out to see if we can make it operational," said Bill Petrie, the county's new mosquito control chief, on Thursday as hundreds of mosquitoes were released at Brewer Park.
If successful, the strategy, which uses male mosquitoes infected with the Wolbachia bacteria to interrupt breeding, could be used to attack other hot spots.
"Then it would be a matter of sitting down and seeing, logistically, what would it take to expand it," said Petrie, who was hired last year after a 2016 Zika outbreak overwhelmed the county's small mosquito control department.
South Miami became the testing grounds for releasing mosquitoes after Miami and Miami Beach, the only two cities with active Zika transmission zones over the summer of 2016, were reluctant to participate, said South Miami Mayor Philip Stoddard.
"I stuck out my hand about as fast as I could and said we're interested," he said.
While the method has been tried in the Keys and California, the South Miami trial is the first in such an urban environment, the preferred habitat for Aedes aegypti mosquitoes, said Patrick Kelly, the field operations manager for Mosquito Mate, which breeds the mosquitoes in Kentucky. The trial covers about a half square mile in the Twin Lakes neighborhood, between Ludlam Road, 62nd Avenue, 64th Street and Miller Drive.
The method is based on sterile insect control, a strategy long used to control pests in agriculture. Male Aedes aegypti mosquitoes are infected with the bacteria, which occurs naturally in a large number of insects but not Aedes aegypti. When the non-biting males mate with females, their infected sperm prevents eggs from being fertilized. Since most females only mate once in a season, Petrie said interrupting breeding is incredibly efficient.
"We know how the biology works, but it gets more difficult when you move to field operations," he said. "There are so many variables."
Although Aedes aegypti are present year-round, numbers spike during the rainy season when water-filled containers, bromeliads and other breeding grounds are plentiful. Mosquito Mate plans to release about a half million male mosquitoes each week through July, Kelly said.
Because male mosquitoes don't bite, the releases should not up the nuisance factor, Stoddard said.
"Don't swat these guys. They're important," he said.
A team from Mosquito Mate plans to walk the neighborhood weekly, releasing the mosquitoes shipped in cardboard tubes. Traps set up in the neighborhood, and in a nearby neighborhood where no infected males are released, will collect female mosquitoes and eggs to monitor the progress.