Former Miami judge Philip Bloom, famed for humor and humanity in courtroom, dies at 87
Redacción Agencias | 1/8/2018, 7:17 a.m.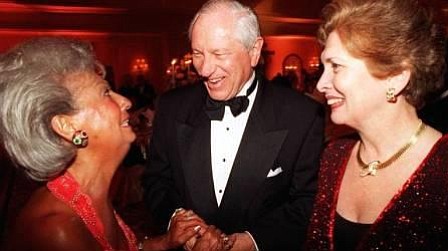 Miami-Dade Circuit Judge Philip Bloom encountered all manner of human dramas. And the one about the birds.
Bloom left the courtroom one day in 1991, drove to South Miami-Dade with his bailiff and found himself in the backyard of a defendant's home. He listened intently, to gauge if the family's exotic birds were so loud and annoying to disgruntled neighbors that they needed to be removed by judicial intervention.
He heard not a squawk.
Bloom threw out the case. But in his written order, he urged everyone involved to "count their blessings" and "recognize that there are some real problems in this world, and realize that the sound from the macaws and the cockatoo is not one of them."
It was that humanistic perspective that guided Bloom over nearly two decades on the bench, a career marked by his love of the law and a devotion to molding young lawyers. Bloom died early Thursday at age 87 from complications of Parkinson's disease.
"He wanted to spread the gospel of civility. He wanted to show you could be a good lawyer, even a good litigator, and still be nice and shake hands with your opponent," said U.S. Judge Federico Moreno, who as a young county judge in the mid-1980s was mentored by Bloom.
Bloom was born in New Rochelle, N.Y., on June 14, 1930 — Flag Day, a holiday he loved to celebrate.
He earned his law degree at Columbia University, landing a job in the antitrust division of the U.S. Department of Justice. Bloom went on to work in a similar role with the New York Attorney General's Office, before moving to Miami to work in commercial law. Bloom was elected as a Miami-Dade circuit court judge in 1984. He held the position without opposition for 18 years, retiring in 2003.
He was well known for creating the Summer Court Observer Program, which pairs law students with judges to experience the judicial system firsthand.
Always the early riser, Bloom was also known for his 7 a.m. special hearings, for lawyers who needed expedited hearings. Over the years, Bloom earned an array of awards, and was named a "legal legend" by the court system's historical society in 2011.
On the civil bench, Bloom presided over all manner of only-in-Miami cases: the time ex-Miami Heat star Rony Seikaly sued over his sunken yacht; when the West African tycoon who donated millions to local charities was accused of using "black magic" to embezzle $240 million from the Dubai Islamic Bank; the case of the fugitive lawyer who looted tens of millions from Brazil's social-security system.
"This is a case of chutzpah," Bloom said in 1989 after a civil-court jury refused to give money to a burglar who sued a neighbor who shot him. "This case highlights our mixed-up world, in which the admitted criminal seems to have more rights than an innocent victim. This jury verdict affirms that a burglar is not entitled to safe passage during and after the commission of that crime."