McClure Celebrates Transformative Mosaic w/ Mayor Kenney
A 5-year community art project with COSACOSA, 5th graders, & Picasso Project
Redaccion El Sol Latino | 5/22/2018, 11:33 a.m.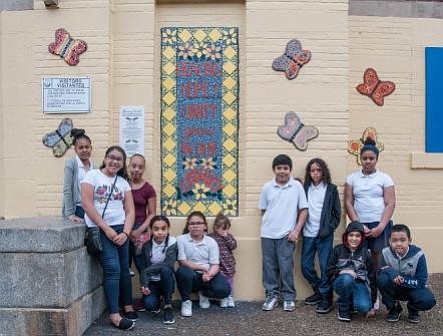 On Wednesday, May 16, 2018, join the Alexander McClure Elementary School community as they dedicate their completed project, Growing United,a transformative series of mosaics murals covering the school façade. This five-year initiative involvedsuccessive classes of 5th graders and artists fromCOSACOSA art at large, Inc., with leadership from principal Sharon Marino and art teacher Becky Naughton.
The expansive mosaic and mural project is a key component of the reimagined school grounds.The project theme of "growing united" encourages participating youth to work together and take a leadership role in resolving conflicts at their school and in their community. The dedication will start at 10:15am.
The Growing Unitedproject received a 2018 Picasso Project grant award from Public Citizens for Children and Youth. The project was also supported by grants from the Knight Arts Challenge, the Kresge Foundation, and the National Endowment for the Arts, among others.
Since 2002, PCCY's Picasso Project has provided access to the arts for 41,000 students through strategic grants to 164 schools. The Picasso Project advocates for full and equitable funding for arts education for Philadelphia students.
COSACOSA art at large, Inc. is a non-profit organization creating new public art specific to the concerns of Philadelphia communities in direct, long-term collaboration with city residents.
WHAT: "Growing United" Mosaic Celebration
WHO: Mayor Jim Kenney (anticipated)
Students and teachers of McClure
Sharon Marino, Principal
Kimberly Niemela, Director,COSACOSA art at large, Inc.
Tim Gibbon, Public Citizens for Children and Youth
WHEN: Wednesday,May 16, 2018
TIME: 10:15am-11:00am
WHERE: Alexander McClure Elementary School
600 West Hunting Park Avenue