Marvel Universe Live! Announces New Show
Epic Marvel Super Hero Experience Comes to Hershey on Nov. 23-25; Tickets on Sale Now
Taylor Brand Ggroup | 9/21/2018, 10:54 a.m.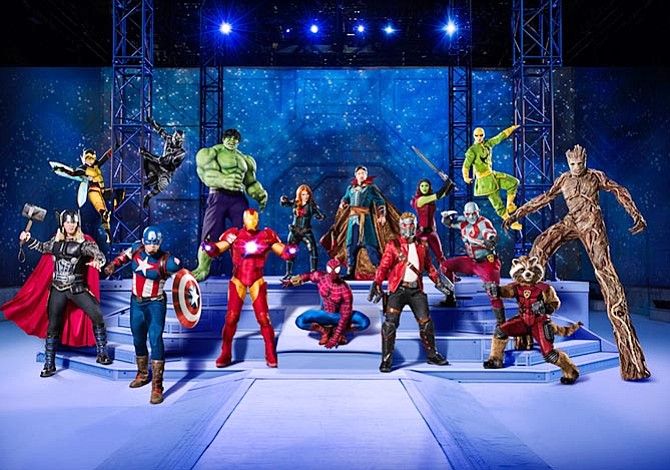 • Featuring Guardians Of The Galaxy And More Than 20 Favorite Marvel Super Heroes And Villains
• Epic Marvel Super Hero Experience Comes to Hershey on Nov. 23-25; Tickets on Sale Now
HERSHEY, PA.- Super hero action, thrills and drama will soar, smash and burst into arenas across the country starting this summer with the debut of Marvel Universe LIVE! The iconic Marvel Super Heroes Spider-Man and The Avengers are joined by the Guardians of the Galaxy, including Star-Lord, Gamora, Groot, Rocket and Drax, in a legendary battle to defend the universe from evil.
The newest production from Feld Entertainment, the world's leading producer of live touring family entertainment, will come to the Giant Center in Hershey from Nov. 23 to Nov. 25. Tickets are on sale now at Marvel Universe LIVE! or by calling 717-534-3911 or 1-800-745-3000.
"Our tremendously talented creative team and a nearly super human cast, have created a show that brings the grandeur of Marvel to life," said Juliette Feld, producer of Marvel Universe LIVE! "Age of Heroes creates an experience that immerses families in non-stop action, creating movie-style thrills and jaw-dropping stunts that showcase the powers of your favorite Super Heroes right before your eyes."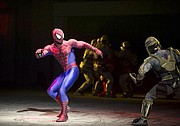 Called on by Doctor Strange, the Guardians of the Galaxy join Marvel Universe LIVE! on a momentous crusade against the scheming Nebula who teams up with the conniving and loathsome villains Loki and Green Goblin. The incredible superhuman forces of Iron Man, Thor, Black Panther, Hulk and Black Widow will unite in clashes that pit student against mentor, sister against sister and brother against brother.
Immersive video projection and cutting-edge special effects will captivate and transport audiences across the universe from the fantastical Savage Land to New York City and beyond. Spider-Man and Wasp's dynamic aerial stunts along with Captain America's daring motorcycle skills will be on display in the ultimate race against time to save mankind.
"I'm extremely excited to work on Marvel Universe LIVE! Age of Heroes and bring the talents and powers of these amazing characters with such dimensionality to life," said Marvel's chief creative officer, Joe Quesada. "Audiences will be on the edge of their seats as they witness the outrageous stunts and fight sequences in truly a unique experience that puts fans at the center of the action."
Marvel Universe LIVE! will travel throughout North America on a multiyear tour. After North America, the show will embark on an international tour in 2019. For a complete list of North American tour dates, locations and to purchase tickets, please visit the Marvel Universe LIVE! website. Stay current on the latest developments by following us on Facebook, Twitter, Instagram and YouTube — @MarvelOnTour.
Members of the media should visit www.FeldMediaGuides.com/AgeofHeroes for more information.
About Feld Entertainment, Inc.
Feld Entertainment® is the worldwide leader in producing and presenting live touring family entertainment experiences that uplift the human spirit and bring people together. Properties include Monster Jam®, Monster Energy Supercross, AMSOIL Arenacross, Disney On Ice, Disney Live!, Sesame Street Live! and Marvel Universe LIVE! Across the brand portfolio, Feld Entertainment has entertained millions of families in more than 75 countries and on six continents. Visit feldentertainment.com for more information.
About Marvel Entertainment, LLC
Marvel Entertainment, LLC, a wholly-owned subsidiary of The Walt Disney Company, is one of the world's
most prominent character-based entertainment companies, built on a proven library of more than 8,000
characters featured in a variety of media over seventy years. Marvel utilizes its character franchises in
entertainment, licensing and publishing. For more information, visit http://www.marvel.com/. © 2017 MARVEL